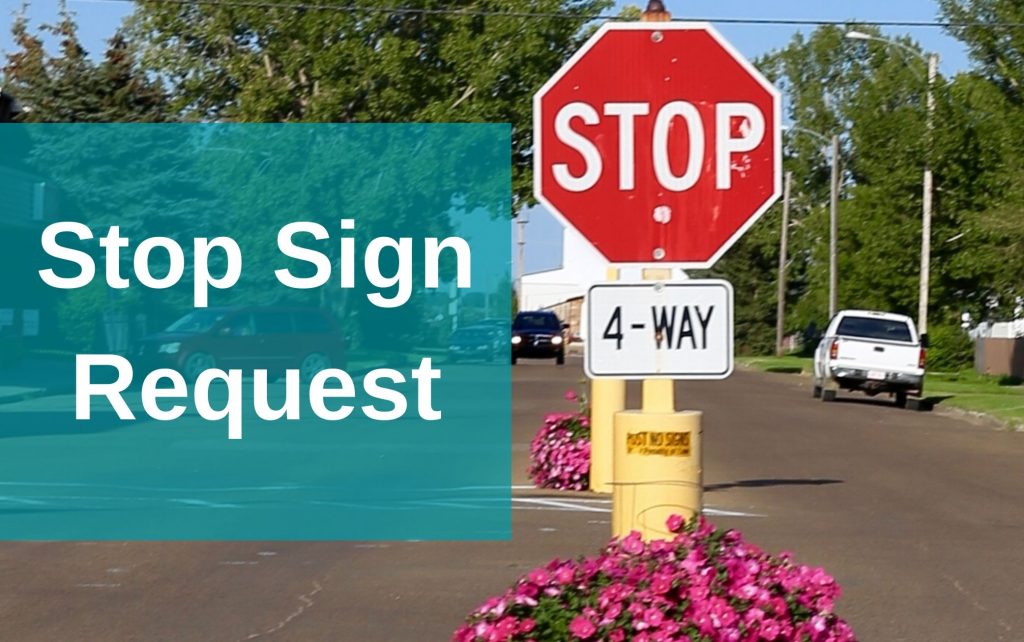 Council received a request from a resident to change the intersection of 2 Avenue and 2 Street West from a 2-way stop to a 4-way stop intersection by placing two additional stop signs on 2 Avenue West.  This will stop the east-west traffic at this intersection.
The resident expressed, in a letter, that their grandchildren, who routinely cross 2 Avenue at that intersection are in danger of being hit by an oncoming vehicle.  Visibility is difficult when the street is full of parked vehicles and drivers tend to drive faster than the speed limit through the intersection.
Town Council directed Administration to review potential options to address these Traffic-Pedestrian concerns at 2 Avenue and 2 Street West, including a public engagement process, with the intent to bring a report and recommendation to a future Council meeting.  Council would like citizens to genuinely consider the concern and consider the options available and provide their opinion on what they believe to be the right decision.
RCMP has been consulted and they do not see any issues with erecting additional 4-way stop signs in that location.  Administration is presenting 5 options for citizens to consider and providing an opportunity for citizens to bring forward additional ideas, as well as respectfully discuss the issue if desired.
Images and quotes have been collected when required.
Please remember that even though this is a process that engages the public, Council is not required to proceed with what the majority recommends and may choose an entirely different option, or choose to leave the situation in the existing condition.
For this particular issue, Administration has chosen the following methods of engagement.
Survey available online
Accepting written submissions.
Please note that even though this engagement process will be promoted on social media, any comments made or messages sent are not considered a response to the engagement process.
The survey was open to anyone with access to the internet from June 15 to July 6, 2020.  The following are the results of the six questions.
The Decision & Next Steps
After much deliberation, Council voted in favour of the installation of a Solar Lit Controlled Pedestrian Crosswalk Light.
Councillor Gerald Campion requested a recorded vote.
Those in favour: Mayor Warwick, Councillors Deadlock, Jensen and Stickel.
Those opposed: Councillors Beaudoin, Campion and Olsen.
Supplies are being ordered.