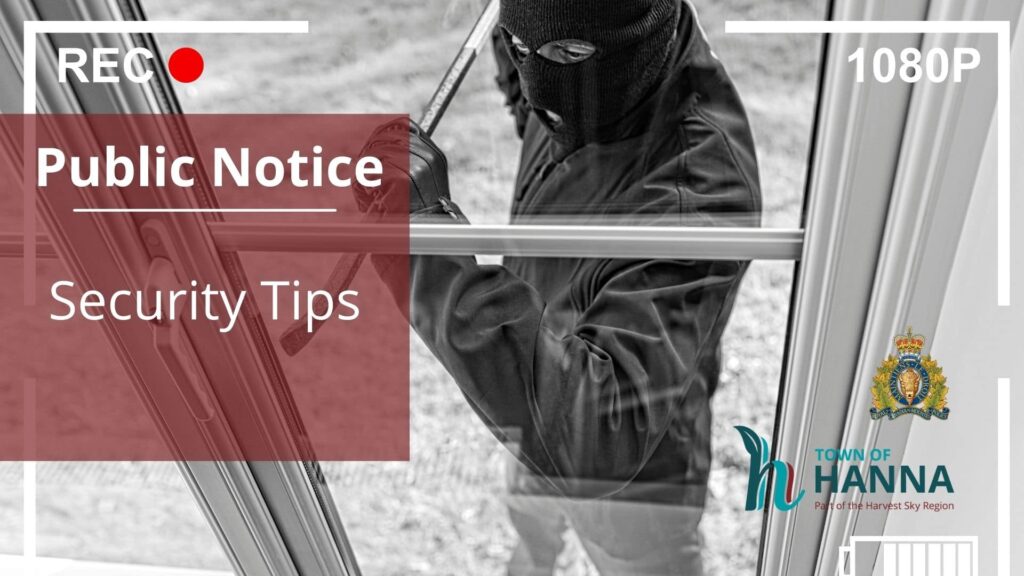 Hanna RCMP are reporting an increase in local property theft and want to remind citizens of some steps to protect your home, property, and business.
Always call 911 during a crime in progress or in an emergency.
Routine Checklist
Keep valuables out of sight. Expensive outdoor items to be stored in a locked garage or outbuilding (tools, lawnmower, grills, ATV's, etc.)
Lock doors to buildings and vehicles including between attached garage and house.
Garage door opening removed from vehicle
All windows locked.
Keep keys out of eacy access to others.
Place "No Trespassing" signs at gates and entrances.
Make a list or photograph what you own. It is a good idea to Include serial numbers, model numbers and other descriptors.
When travelling, have a neighbour or a friend check your property and house.
Have well lit areas especially at night.
Communicate with neighbours about who should and shouldn't be on your property.
Keep vacation plans off social media.
Ensure your children know your address and how to call 911. For rural families, ensure your family knows your rural address and legal land description.
Home and Community
Be aware of suspicious activity, suspicious vehicles, and suspicious people. Write down what you see and report it to police. Don't assume someone else has reported it. You can become involved with local crime prevention associations such as Citizens on Patrol or Rural Crime Watch. Get to know your neighbours and don't give information about neighbours to strangers.
NEVER let a stranger in your house unless you are able to validate their identity. All legitimate businesses and organizations are aware and able to provide proof of identity.
What to Look For
Suspicious Activity Around Houses
Dog barking more than usual
Alarm sounding
Ladder against house
Broken windows
Unusually high traffic at house
Suspicious Vehicles
Erratic driving
Idling near parks for long periods of time
Vehicles driving at night without lights turned on
Abandoned vehicles
Suspicious People
People looking inside vehicles
People acting erratically
People trying to hide
Suspicious Activity in your Business
Anyone trying to conceal themselves by avoiding detection with hoodies, sunglasses or baseball hats. You can post signs stating that these items must be removed prior to entering the premesis.
Anyone who appears anxious, neverous or is looking for security cameras.
Anyone who is in an agitated state. Do not approach and call police to assist.
Tips for Protecting your Business and Employees
Consider installing a panic button.
Keep perimeter clear of items that could be used to break a windows or be used as a ladder.
Get to know your business neighbours and keep an eye out for each other.
Try to greet everyone who enters your business. This lets them know that you see them and are aware of their presence.
Maintain clear sightlines looking into your store. Potential thieves don't like to be soon. They prefer to feel like they are anonymous.
Keep valuables away from windows
Inside and exterior lights are on at night
Make sure employees know what to do and who to call if an incident such as a robbery occurs.
Don't hesitate to call police if somehing is suspicious. If it doesn't feel right, it probably isn't.
Always call 911 during a crime in progress or in an emergency.