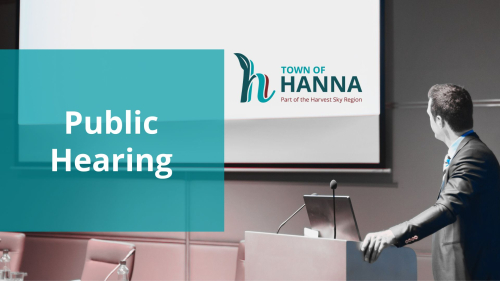 The Municipal Government Act (MGA) states that Council must give notice of certain decisions. These business items trigger what is called a statutory notice and include certain bylaws, resolutions, meetings, elections, notice of nomination day, notice of advance votes, and public hearings.
Section 606(1) of the MGA states that statutory notices are to be advertised in one of the following methods:
in a newspaper or other publication circulating in the area,
mailing or delivering a notice to every residence in the affected area or
by another method provided for in a bylaw.
With the announcement that the Hanna Herald will be discontinuing the printed edition effective Feb 22, 2023, Administration has been investigating options to meet the advertising requirements of statutory notices.
Section 606.1(1) allows Council to pass a bylaw to provide for one or more advertising methods, which may include electronic means, for advertising proposed bylaws, resolutions, meetings, public hearings and other things referred to in Section 606. Council gave first reading to Bylaw 1030-2023 Advertising Bylaw at their Feb 14, 2023, Council Meeting which if given second and third reading will allow the Town the use of alternative forms of advertising to meet statutory requirements of the MGA.
Administration is working on a full advertising plan which will not only address statutory notices but the additional business of the Town that will be of interest to ratepayers. These things might include but not be limited to the following:
Employment opportunities
Facility hours (pool open in the spring and arena open in the fall)
Proclamations
Emergency preparedness
Compost pickup and utility changes
Events and activities such as Canada Day, Drive Happiness, available bursaries & grants, registration deadlines, Senior's Week, Teen Fair and more.
A requirement of passing an Advertising Bylaw is that notice of this bylaw must be advertised by being published at least once a week for two consecutive weeks in at least one newspaper or other publication circulating in the area to which the proposed relates. As part of this process, there is a requirement for a Public Hearing to be held prior to the final approval of the bylaw. This Public Hearing will allow any residents who feel they may be affected negatively by the implementation of this bylaw an opportunity to present their position to Council.
The Public Hearing by Bylaw 1030-2023 will be held on Tue. Mar 14, 2023 at 7:00 pm at the Town of Hanna Office.
Until the bylaw is passed, statutory notices will be published in the ECA Review. The bylaw, once passed, will define how the Town of Hanna will advertise these notices going forward.
You can view the proposed bylaw here: https://hanna.ca/bylaws-policies or it can be viewed by requesting a copy at the Town Office.
Feb 22, 2023 – Hanna Herald
Mar 2, 2023 – ECA Review