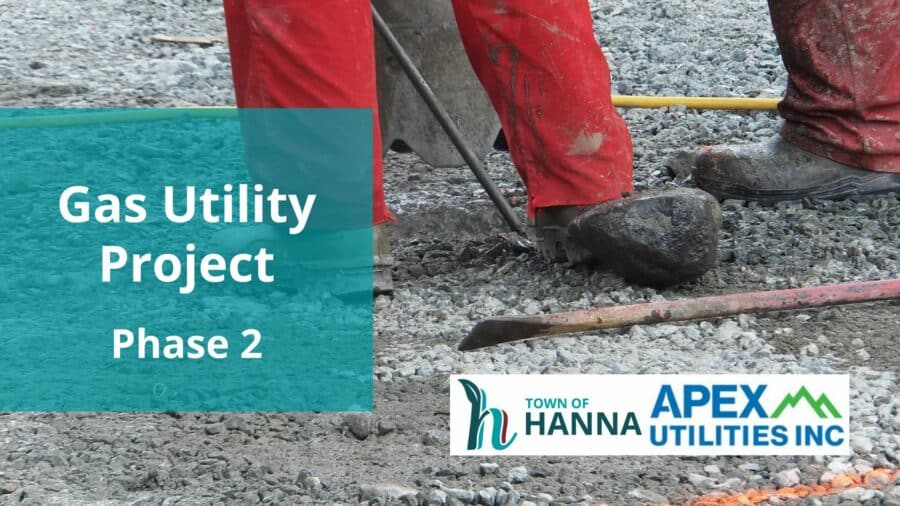 Apex Utilities (formerly AltaGas) has informed the Town of Hanna that Neuterra Ventures Inc. will be starting Phase II of the 2-phase valve and gas line replacement project, Some alleys in town will be temporarily impacted by the use of heavy equipment and construction workers.
Things to Note:
Alley access WILL be restricted and very possibly BLOCKED during this time.
Work is broken and scheduled by Area, the same as Phase 1.
There are 6 different Areas that will be impacted. Areas 1, 2, 5, 6 & 8.
Work will commence in Area 1 on Nov 1, weather permitting however you may see activity the week prior.
Nov 21-24 will impact Area 6. Information on other areas can be found closer to their scheduled date at hanna.ca/news.
You will notice various locating companies and vehicles prior.
The project consists of 2 phases. This is phase 2.
There will be no loss of service.
There will be minimal impact on residents and businesses.
Stay Informed:
Sign up for the Town e-newsletter. The signup is found at the bottom of every page on our website. If you need assistance, contact the Town Office.
Visit hanna.ca/news to read the most current notice.
Sign up for SMS Notifications at https://hanna.ca/alert. The Town text message notification system MAY be used.
Check your front door for correspondence from Neuterra.
Contacts:
Neuterra Main Office for questions or concerns (780) 402-3556.
Apex Utilities Customer Care 1-866-222-2067
Apex Utilities 24-hour Emergency Line 1-866-222-2068
Schedule and Locations: