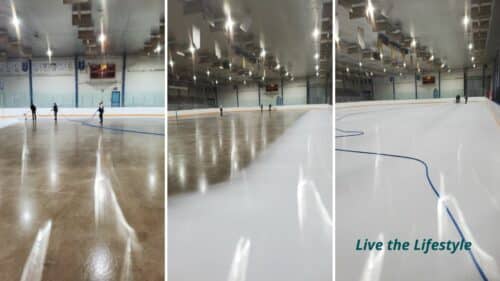 Have you ever wondered why it takes so long to get the arena ready for ice skating?
First, the concrete floor must be spotless. Then small multiple layers of water are applied over 2 days allowing it to freeze between each layer. Once Kevin is happy with the foundation, the white paint is applied (shown in the photos).
Now, more layers of water, freeze, water, freeze before adding lines, logos, and then even more water, freeze, water, freeze. Once the ice reaches about 0.5″ thickness – above the lines – hot floods start until the ice is 1.25″ to 1.5″ thick, above the concrete.
Things are right on schedule for the arena to open Tues. Nov. 1 with the following schedule:
Parent & Tot from 10:30 am to 11:30 am Tues and Thurs Nov 1 & 3.
Noon Hockey from Noon to 1:00 pm Tues and Thurs Nov 1 & 3.
Public Skating 6:30 pm to 7:30 pm Fri Nov 4.
Public Skating 5:30 pm to 6:30 Sun Nov 6.
The schedule changes slightly for Nov 7-11 because there is no school. Be sure to check the Community Event Calendar at hanna.ca/events to confirm dates and times.