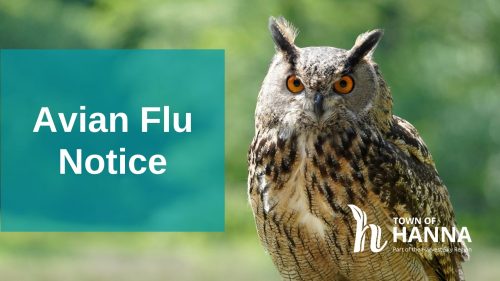 A family of owls, living close to Hanna was found to be infected with HPAI (Highly Pathogenic Avian Influenza), also referred to as H5N1, Avian Flu, or Bird Flu. Until recently, birds of prey or raptors were considered to be immune to this virus but that no longer holds true. This family of deceased owls was tested and found to be positive for Avian Flu. Unfortunately, the one member of the owl family that was still living and nick-named George later died of the virus as well.
Message from the Hanna SPCA
The Hanna SPCA has asked the Town of Hanna to help communicate the risks of HPAI, and that it is confirmed to be in our area. The following information has been provided by the Hanna SPCA. Questions or comments should be directed as per the links at the bottom of this article.
The Hanna SPCA wants people to know that there are confirmed cases in our area and that the virus is transmittable to mammals, including humans, mice, weasels, ferrets, pigs, cats, and dogs. A family of foxes was recently discovered to be infected near Medicine River, which is near Innisfail. Current science suggests that the risk of a human contracting HPAI from a mammal is very low, however, pet owners are encouraged to take precautions to protect their pets and themselves. It is known that anything or anyone coming into contact with bird feces or dead birds is at risk and it is critical that people take extra steps to keep their pets safe. For example:
A cat or a dog could come into contact with an infected animal or bird, or their feces. Then, when the cat or dog licks themselves they can contract the virus.
Ensure you keep your pets out of the water where birds congregate.
Also, if your housecat becomes exposed and you are the caretaker of the litterbox, you can potentially become infected.
No Need to Panic
There is no need to panic. Just be diligent. Do not pick up dead birds or animals without gloves, take good care of your pets, and report any animals acting strange like they are drunk and can't walk or fly properly. This information has been verified by various government websites.
The Canadian Food Inspection Agency (CFIA) is leading the investigation and response. You can visit this link (CFIA) to see the areas within Alberta and Canada that have reported cases.
Pets and the H5N1 Avian Influenza Virus by Gov of Canada.
Provincial Updates regarding Avian Influenza in domestic birds.
How to Report
Canadian Food Inspection Agency by phone or email:
Office of the Chief Provincial Veterinarian: Link Here
Concerns about sick or dead wild birds call 310-0000 or Hanna's Fish and Wildlife Office 403-854-5540 as listed on the Gov. of AB website.