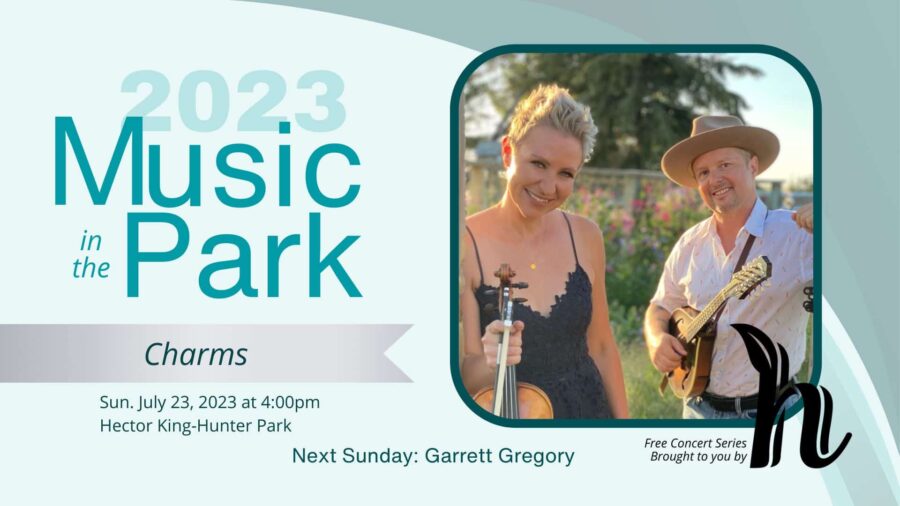 Rain or shine, Charms is performing Sunday July 23 at 4:00 pm, in Hector King-Hunter Park.
Gather to enjoy Husband & Wife duo Denis & Meg Dufresne. The two are celebrated and award-winning vocalists and Instrumentalists both playing violin, mandolin and guitar. Together, they cover a wide range of popular music in the Instrumental style of Bridgerton while also covering an extensive amount of Roots/Canadiana Vocals.
Denis and Meg have toured the world both separately and together, playing command performances for His Royal Highness The Prince of Wales, the Saudi Royal Family, the Prince of Monaco, the Duke and Duchess Will and Kate and several Canadian Prime Ministers. Megan is Western Canada's Premier Bollywood Violinist and Denis is the current CCMA "Fiddle Player of the Year".
Relax and enjoy the talent. Bring a lawn chair or a blanket. The performance is planned to be outdoors at the park but if the weather is poor, maybe be moved inside.  Each performance is free of charge and there will be an opportunity to tip the performers.  Mark your calendars for July 30 when Garrett Gregory joins us!
The 2023 Music in the Park series is brought to you by the Town of Hanna.