Zumba Dates Updated
We apologize for having to cancel the Aug 20 Zumba in the Park but there's great news!  Robin is going to offer Mon. Aug 24 in it's place!
Coming Zumba Dates: Mon. Aug 24 & Aug 27.  7:00 pm  Please remember to pre-register.
Taxes Due
MONDAY Aug 31 is the deadline to pay your property taxes.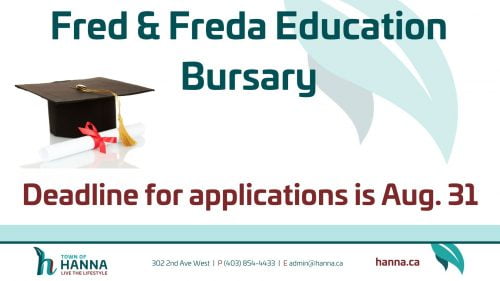 Bursary Available
MONDAY Aug 31 is the last day to submit your application to the Fred and Freda Geuder Education Bursary.  Have a look on the page of commonly used Forms on the website for the application information.
Thank you for your support!
With school getting started, there is a need for supplies.  Students are looking for the following items:
Glue sticks
Pencil crayons
Markers
Loose leaf
Folders (not duotangs)
Hand sanitizer
Disposable masks
If you are able to donate, donation boxes are set up at Super A/Pharmasave, Freson Bros. and Fields. 
Dr. Wendy Fortna updates Hanna & Area citizens on the status of COVID-19 in our area.  Please, stay safe and follow the recommendations of Dr. Fortna and Dr. Hinshaw.
or
Prairie Land School Division has released options for learners including the traditional classroom or an online option through Hope Christian School.  Their website contains the Re-entry Handbook, FAQ's,  Registration Forms and links to the information for Hope Christian School. Contact  Prairie Land School Division for more information
Making a Mask
There are many ways to make a cloth mask. Health Canada has sew and no-sew options. Here are a few suggestions if you're wanting to make your own:
• Choose fabric that can withstand frequent cycles through washing and drying.
• Use multiple layers of tightly-woven fabric. Four layers is optimal.
• Use a combination of fabrics, such as a high thread-count cotton (e.g. 600-thread count pillowcases and cotton sheets) with spun bond polyproplylene or polyester.
• Use different fabrics or colours for each side of the mask. This helps you to know which side faces your mouth and which side faces out.
Buying a Mask
If you are buying a cloth mask, make sure it:
• has multiple layers of fabric
• fits securely against your face
• allows for clear breathing
• can be laundered.
Source
Alberta Health Services has released this information.
Find out more about when and how to wear a cloth mask at www.alberta.ca/masks.
Dr. Deena Hinshaw Demonstrates