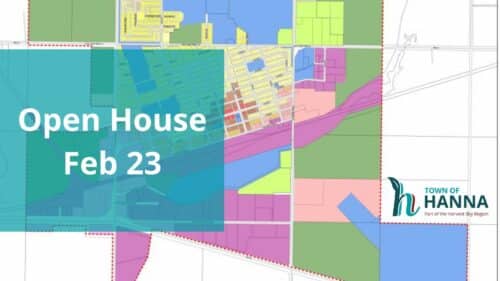 The Town of Hanna is proposing significant changes to the existing Land Use Bylaw #967-2012. The process includes an opportunity for residents and businesses to provide their input.
What is a Land Use Bylaw?
The Municipal Government Act requires all municipalities in Alberta to adopt a Land Use Bylaw. The Land Use Bylaw directs the use and development of lands and buildings. By establishing land use districts (known as zoning), the Land Use Bylaw regulates the types of activities and buildings that can occur on any specific property. It also contains regulations, such as building height, maximum parcel coverage, and building setbacks from property lines.
What is the Process and Timelines?
The Town of Hanna is working with Palliser Regional Municipal Services (PRMS) to update the Town's current Land Use Bylaw 967-2012 in collaboration with the Town Council and its residents. The new Land Use Bylaw will replace the current version.
Palliser Regional Municipal Services is currently gathering feedback on the Draft Land Use Bylaw from the residents and businesses of Hanna. An open house is being held on Thurs. Feb. 23, 2023 at the Hanna Community Centre from 5:00 pm to 8:00 pm. You are invited to attend the open house and discuss the draft with Palliser and Town staff.
The following is an anticipated schedule of the entire process, but anywhere along the way, it can change.
Feb 3, 2023: Letters are mailed to affected property owners. Completed.
Feb 23, 2023 5:00 pm to 7:00 pm: Open house to gather information and ask questions. Completed.
Feb 24, 2023: Palliser Regional Municipal Services to revise the proposed bylaw based on input from the Open House. In progress.
Following the feedback received at the Feb 23, 2023, open house, the LUB project timelines have been adjusted to provide more time for resident feedback. Please stay tuned to more recent news releases regarding the next steps for the LUB project process and timelines.
Mar. 14, 2023 Council Meeting: Draft Bylaw to receive 1st reading. May be postponed to a later date.
Apr 11, 2023 at 7:00 pm: Public Hearing from those prejudicially affected and whose concerns were not addressed at the Open House.
Apr 11, 2023: Draft Land Use Bylaw to receive 2nd reading and if anonymous[sic] consent is granted, could receive 3rd and final reading. (auto-corrected unanimous to anonymous)
May 1, 2023: New Land Use Bylaw comes into effect.
What is Proposed to Change?
The Draft Land Use Bylaw is significantly different from the current Land Use Bylaw 967-2012. Some of the changes include but are not limited to:
ensuring the Land Use Bylaw meets the new requirements of the Municipal Government Act;
reorganization and reformatting to make the Land Use Bylaw easier to read and understand;
elimination of inconsistencies and conflicting regulations;
incorporate new land uses and technologies;
ensuring all uses and terms are defined for clarity; and
ensuring the correct districts are applied to each property and appropriate uses are listed in each district.
Documents
All the information, documents, maps and summaries are available on the Town website at https://hanna.ca/bylaws-policies. Direct links can be found here:
Questions or Comments
If you have questions on comments, please contact:
Tracy Woitenko
Senior Planner, PRMS
twoitenko at palliserservices.ca (written in this format to reduce spam)
(403) 854-3371 ext. 207