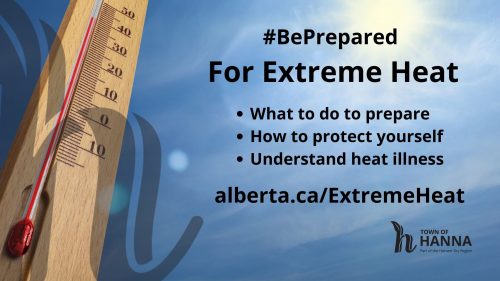 According to Alberta Environment, there are 34 forecast regions in Alberta. Did you know that our region, Hanna – Coronation – Oyen is #5? That means that our area has more extreme heat than other areas in Alberta. This is another reason to be prepared.
Extreme heat can cause serious negative health effects for everyone but some people are at a higher risk. Those may include the elderly, infants, pregnant women, outdoor workers, the homeless, and even some medications can increase the risk of heat illness.
The Province urges us to Be Prepared, Protect Ourselves, and Understand Heat Illness. Please visit alberta.ca/extreme-heat to learn more.
Be Prepared
Consider having a heat buddy to check in on you if you live alone. Remember, Hanna Cares can match you up: hanna.ca/help
Have an emergency kit ready. Weather events can be more common during heat waves.
Know forecasted temperatures and keep track of your indoor temperature.
Stay hydrated by drinking water. Check with your Doctor or Pharmacist if you are restricted or on water pills.
Stock up on food, medication spray bottles, ice, cold water, and fans to limit shopping during the heat of the day.
Protect Yourself
Lower your activity level
Wear light-colored, loose-fitting clothing, UV protective sunglasses, and a wide-brimmed hat.
Use sunscreen SPF30 or higher. Check the expiration dates.
Drink water.
Stay with friends if your home becomes too hot.
Understand Heat Illness
Watch for the signs of heat exhaustion and heat stroke.
Heat exhaustion symptoms can include dizziness, nausea, headache, muscle cramps, skin rash, and more. If you suspect heat exhaustion call Health Link at 811 or the local medical clinic during office hours.
Heat stroke is a medical emergency – call 911 immediately if you see these signs

dizziness or unconsciousness
confusion and lack of coordination
strong, rapid pulse
high body temperature
nausea
very hot, red skin

If Heat Stroke is suspected, call 911 immediately and wrap the victim in a wet towel or cloth. If possible, get them out of the sun, remove socks, and do not give fluids. Stay with the victim until emergency services arrive.
alberta.ca/extreme-heat