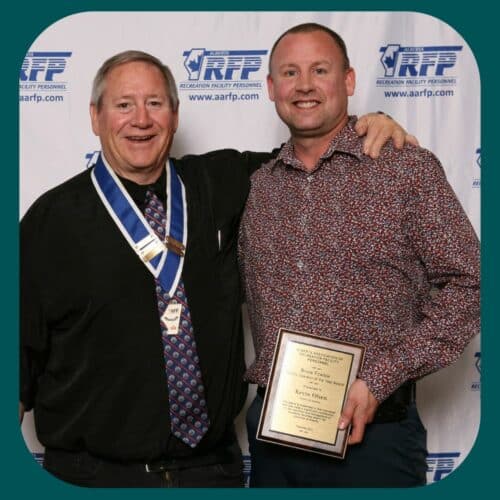 Congratulations to Kevin Olsen, our very own Community Services Foreman who was awarded the Bruce Fowlow Facility Operator of the Year. Kevin was not aware that he had been nominated so when his name was called at the annual Alberta Association of Recreation Facility Personnel (AARFP) awards banquet on April 25, it was a complete surprise.
 The Bruce Fowlow Facility Operator of the Year Award is presented to an individual, who has made a significant contribution to the operation and management of recreation facilities within the Province of Alberta. The recipient is selected annually by a committee made up of past presidents of the AARFP. The following is taken from the submitted nomination.
Kevin Olsen has been working for the Town of Hanna in the Community Services Department for over 20 years. During this time he has moved from a junior member of the team to accepting the role of acting Community Services Foreman with the Town of Hanna. This position will soon become a permanent promotion to Community Services Foreman. It is a well-earned and deserved promotion. 
During his early years of employment with the town, Kevin displayed a keen interest in making it not a job, but a career. His interest in learning through both informal and formal means is commendable. Often, his course enrollments were a result of his requests to attend rather than that of his employer making it a mandatory requirement.  He excelled in his pool operator and arena operator courses, achieving top marks and an AARFP award to reflect this. He is one of few who have successfully completed all courses through AARFP to achieve his Western Certification for Facility Management – presently referred to as the Recreation Facility Master Operator Certificate. 
As part of the Town of Hanna team, Kevin has been a key leader in working with our permanent staff as well as the seasonal staff who work each summer in the Community Services Department. He has served as a trainer and mentor for the youth employees, with many coming back for several years in a row due in large part to his leadership. When the opportunity arose to take on new challenges, he did not hesitate, moving towards increased management and control of the outdoor pools, including the operations, ordering, and maintenance.
Kevin has been active in promoting new and innovative ways to operate to improve facility efficiencies and user satisfaction. He looks for proven track records of new initiatives and is not hesitant to encourage implementation when it makes sense for Hanna. 
Kevin has served on the provincial board for AARFP and was a committed dedicated member during his term. He was active and involved in the operation and took part in debates and discussions – always with the bigger picture and impact on the recreation field and the need for qualified, supported management and operators. Not only did he participate in board and association functions, but he also encouraged his Hanna work team to participate in AARFP functions where possible. He sees the importance of connecting both formally and informally.
Kevin Olsen is an excellent candidate for this award. He is a strong leader locally, but also supportive of regional and provincial connections. He believes that by sharing and open communication we can all provide better services and recreation facilities for those who use and enjoy them.
Congratulations on receiving this well-deserved recognition Kevin!