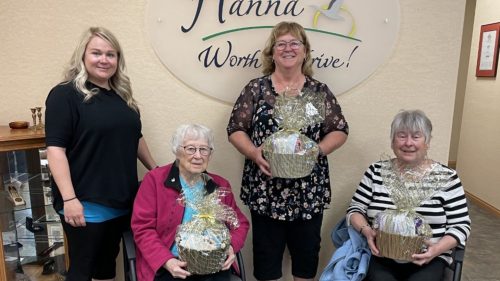 Kim Larson & Lisa Orton want to extend a Thank You to all Hanna and surrounding area community seniors that participated in the Seniors Week Activity Punch Pass Program. Kim and Lisa are Hanna's Community Recreation Therapists.
Kim and Lisa wanted to encourage seniors to get out and about and enjoy the wonderful programs and services the town has to offer so we thought we would tie it in with Senior's Week.
They also extend a thank you to the town of Hanna and local businesses for their support and assistance with the activity and getting the word out there. A BIG thank you to the Hanna Wellness Network who provided the funding to purchase the items for the gifts baskets.
The Seniors Punch Card was implemented May 17- June 13. Kim and Lisa made the draw and called the winners on June 15 and arranged to meet at the town office for a photo.
Thank you to everyone who participated!!
(Pictured left to Right: Lisa Orton, AHS Community Recreation Therapist, Gift Basket Winners: Mary Fury, Gwen Snell and Linda Martin) Picture taken by Michele Toews.