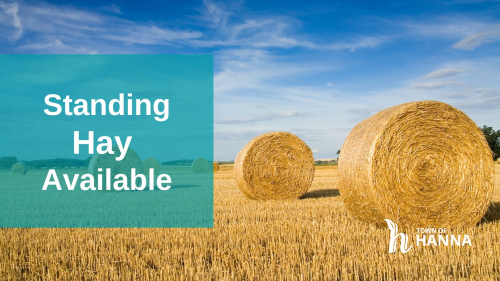 The Town of Hanna is requesting tenders for the removal of hay from six Town-owned properties.
General Conditions
All hay must be removed from the property by August 31, 2023.
Payment will be required prior to removal of hay from the property.
The acreage amounts are estimates only. You are expected to inspect the sites and determine useable areas to your satisfaction
Tenders are to be based on a lump sum amount, not per acre. (e.g.: Airport estimate is 132 acres, you may feel there are only 120 useable acres.)
The Town does not guarantee any hay will be available on any of the sites.
Tenders may be submitted for all or any of the locations.
The Town reserves the right to accept or reject any and all Tenders and to waive irregularities and informalities at its discretion. The Town reserves the right to accept a Tender other than the highest Tender without stating reasons.
Tenders should be submitted on the following form, sealed in an envelope clearly marked 2023 Standing Hay Tender not later than 4:00 pm, Friday, June 30, 2023.
Tenders may be:
Delivered to the Town Office at 302 2 Ave West, Hanna, AB
Mailed to The Town of Hanna, Box 430, Hanna, AB T0J 1P0
Emailed to kneill@hanna.ca
Faxed to Kim Neill at (403) 854-2772