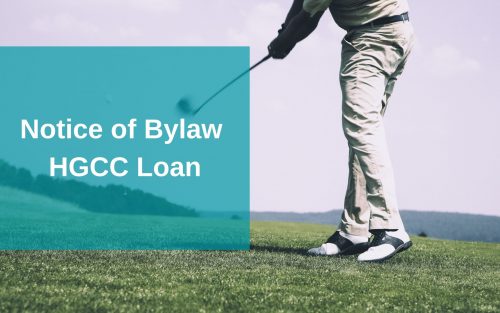 In order to lend funds to the Hanna Golf & Country Club to assist with interim operating expenses until July 2020, the Council of the Town of Hanna has given first reading to Bylaw 1008-2020.    The purpose of Bylaw 1008-2020 is to lend funds from the Town of Hanna Accumulated Surplus.
The Hanna Golf & Country Club, c/o Municipal Golf Course Association is to repay the loan in its entirety by July 31, 2020
Total Amount of Loan  $20,000.
A copy of the bylaw may be viewed here (Bylaw 1008-2020 HGCC Loan Bylaw) or a copy can be mailed or emailed upon request by contacting the Town Office at 403-854-4433 or kneill@hanna.ca during office hours (8:30 am – 4:30 pm Monday to Friday).
A petition for a vote of the electors on the proposed bylaw must be filed with the Chief Administrative Officer by noon on May 12, 2020.
Bylaw 1008-2020 is scheduled for presentation for Second and Third Reading at the Regular Council meeting on May 12, 2020 at 6:00 pm.  The meeting will be held by videoconference, so anyone wishing to comment on the bylaw should send their comments by mail to K. Neill at Box 430, Hanna, AB or by email to kneill@hanna.ca prior noon on May 12, 2020.
Publication Dates: April 22 & 29, 2020.