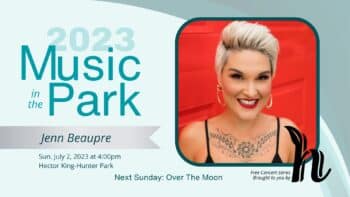 Rain or shine, Jenn Beaupre returns to Hanna's Music in the Park performing Sunday July 2 at 4:00 pm, in Hector King-Hunter Park.
Canadian Idol alum Jenn Beaupre is a Calgary-based singer/songwriter and international vocal coach who has been sharing her big, powerful and technically masterful voice across North America for decades. With the grit of Gaga, the attitude of Aretha and the old-soul maturity of Adele, Jenn is a captivating stage performer.
Currently, you will find Jenn (AKA Rozette) all over TikTok and social media where she has nearly one million followers across platforms. In addition to her vivid and entertaining short-form videos, she's also digging up her soulful, piano-laden roots with her newest single, "Now". It'll slow dance it's way into your heart and is available… Now! 🙂
Relax and enjoy the talent. Bring a lawn chair or a blanket. The performance is planned to be outdoors at the park but if the weather is poor, maybe be moved inside.  Each performance is free of charge and there will be an opportunity to tip the performers.  Mark your calendars for July 9 when Over the Moon joins us.
The 2023 Music in the Park series is brought to you by the Town of Hanna.