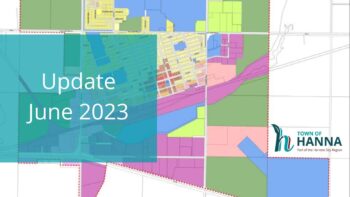 At their regular meeting held June 13, Hanna Town Council gave first reading to the new Land Use Bylaw 1032-2023. This motion brings the bylaw document forward so the general public can officially review, ask questions, and present concerns or express agreement with some or all of the changes.
What are the next steps in the process?
A date for a public hearing will be set at the Aug 8, 2023 meeting. The Public Hearing date will be advertised once it has been set. It was determined that holding the public hearing in July or August may not be well received by the public and those who wish to speak at the public hearing. It is anticipated that the public hearing will be held in Sept, which will give Hanna residents and businesses sufficient time to review the bylaw and prepare for the hearing.
The date will be announced once it has been decided. It is anticipated that the date may be determined at the Aug 8 Council Meeting.
How is the Land Use Bylaw approved?
Council considers the approval of a Land Use Bylaw through three readings of a bylaw. The formal public hearing is required to be held between first and second reading of the bylaw. Council can make amendments to the bylaw at second or third reading of the bylaw to address concerns heard at the public hearing.
The Land Use Bylaw comes into effect after it receives three readings however, an effective date will be chosen and written into the bylaw for transparency and clarification. It is anticipated that the bylaw come into effect Jan 1, 2024.
Documents
The following four documents were provided to Council at their June 13 meeting.
Historical information regarding the Land Use Bylaw approval process can be viewed at https://hanna.ca/bylaws-policies.