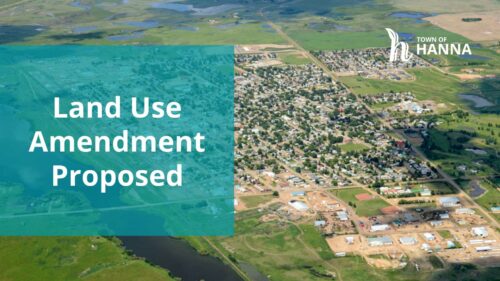 Pursuant to the Municipal Government Act (MGA), the Town of Hanna intends to consider a proposed amendment to Land Use Bylaw 967-2012.
The purpose of the proposed amendment is to redistrict a portion of Lot 2, Block 1, Plan 2261JK (501 5 Street West) from R-3 Multiple Unit Residential District to R-1 Single Detached Residential District as shown on the plan below. The subject land is located at the southwest corner of the intersection of 5 Street West and 5 Avenue West. The current zoning (R-3) and layout of the site will not allow for the construction of a single detached dwelling. The landowner wishes to rezone this highlighted portion as it is an insufficient size for another duplex.
Should you wish to address the council in person, a public hearing for Bylaw No. 1029-2023 will be held in the Town of Hanna office at 302 2nd Avenue West on February 14, 2023 commencing at 7:00 p.m. Council will hear from any person claiming to be affected by the proposed bylaw.
Additionally, written comments may be delivered to 302 2 Avenue or emailed to kneill@hanna.ca; submissions will be received up to Feb 14, 2023 at 4:30 p.m.
The proposed Bylaw can be reviewed at the link below, or copies may be picked up during regular business hours, Monday through Friday.