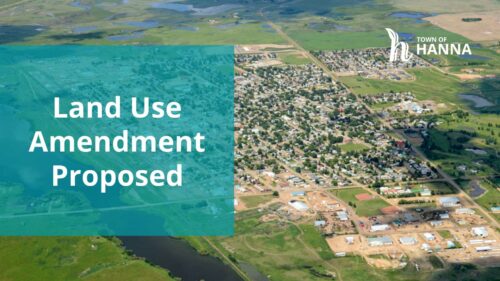 Pursuant to the Municipal Government Act (MGA), the Town of Hanna intends to consider a proposed amendment to Land Use Bylaw 967-2012.
The purpose of the proposed amendment is to redistrict a 0.677-hectare portion of Plan 7711283; Block 2; Lot 10, (Civic Address: 400 Pioneer Trail) from UR-Urban Reserve District to I-Industrial District as shown on the plan below. The redistricting is being proposed in conjunction with the subdivision application (File # 2022-11/207). The redistricting (and subdivision) will allow for the subdivision and consolidation of the new lot into the existing lot (402 5th Street East) to continue to be used for industrial purposes.
Should you wish to address the council in person, a public hearing for Bylaw No. 1027-2022 will be held in the Town of Hanna office at 302 2nd Avenue West on November 8, 2022, commencing at 7:00 p.m.  Council will hear from any person claiming to be affected by the proposed bylaw.
Additionally, written comments may be delivered to 302 2nd Avenue or emailed to kneill@hanna.ca; submissions will be received up to November 8, 2022 at 4:30 p.m.
The proposed Bylaw can be reviewed at the link below, or copies may be picked up during regular business hours, Monday through Friday.