Service to Begin Wed May 13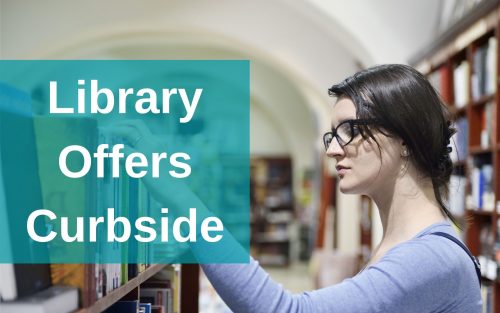 Hanna Library is excited to announce Curbside Pickup.  This service is ONLY for items that are currently in the Hanna collection.  Holds between libraries are still suspended.  The library is hoping to be able to offer corbside pickup until the library can reopen.  It may takes a few weeks to get int othe rhythm of how curbside pickup will work the smoothest so patience is requested.
Curbside Pickup Hours: Wed 2:00 pm – 4:00 pm.
Phone:  (403) 854-3865
Email: library@hanna.ca
Address:  202 1st Street West
Here's How It's Going to Work
Select Your Title
Go Online to tracpac.ab.ca and login using your membership barcode and password.  If you do not have your password, please call the library (403) 854-3865.  You may have to leave a message.
Once logged in, look for the "Search" menu and select "Advanced".
Scroll down and open "more search options" which can be found directly below "limit by" area.
Select Hanna Library from the drop down list of libraries.
Now you can search for titles and keywords limiting your search to books in the Hanna Library collection.  Note:  This may still show you if other libraries also hae this item, however inter-library loans are suspended.
Schedule Your Pickup
Phone the library to schedule a pickup time.  (403) 854-3865. Appointments are scheduled with a 10 minute time slot with 10 minutes in between slots for sanitizing and preparation for the next patron.
Inform the librarian who will be picking up the order, especially if it is someone other than the patron.
Deadline to schedule is 2:00 pm on Tues.
If the library finds that there are too many requests to fulfil on Wednesday, another service day maybe added.
 Pickup Your Item
Arrive at the library at your scheduled pickup time.  202 1st  Street West.
Your order will be placed outside the library front door and it will be monitored by a library staff member to verify the pickup.
Returns
Drop all library returns into the book bin outside.
All returned items will be quarantined for a minimum of one-week before they are placed back into the system.
Announcing Hanna's Storywalk®
The Hanna Library is excited to bring you a StoryWalk® in Hector King-Hunter Park!
The story starts at the entrance closest to the Community Center Parking lot and takes you along the trail. Our first StoryWalk® takes you on a journey with a little boy named Orson as he uses his creative imagination in "Up, Up and Away" by Tom McLaughlin.
Thank you to the Town of Hanna for the use of Hector King-Hunter Park and to Hanna CO-OP for donating materials.
"The StoryWalk® Project was created by Anne Ferguson of Montpelier, VT and developed in collaboration with the Kellogg-Hubbard Library. Storywalk® is a registered service mark owned by Ms. Ferguson."