It was one year ago this month that we entered the COVID-19 Pandemic. I know it has been a very challenging year for all of us, and we are all experiencing COVID fatigue. There are some positives on the vaccine front with Health Canada recently approving the AstraZeneca vaccine. With increases in vaccinations, and the weather improving we can be outdoors more which has us optimistic that we will see an easing of restrictions similar to the spring of 2020.
Facilities are seeing activity with Minor Hockey able to resume practices and Figure Skating lessons occurring with restrictions. Adult sports are still not able to take place until we reach step 3 of the Government of Alberta's Moving Forward Safely plan. As of this writing, we are in step 2.
Step 2 affects Centennial Place.  The Fitness Center and the Cervus Equipment Walking Track can now be opened and used with restrictions for low-intensity workouts only.  You may book the Fitness Center (max of 1 user) or book time on the Walking Track for walking only (max of 10) by phoning (403) 854-4700 or going to hanna.ca/centennial-place and completing the booking.  If the time slot you are looking for, does not appear, that means it is fully booked.  Time segments for the track are 30 minutes but you are welcome to book them consecutively if you would like to walk more than 30 minutes.  For the full explanation of the protocols, please visit Centennial Place at hanna.ca before you go.
Moving from step 2 to step 3 is based on several factors including the number of hospitalizations remaining stable and reducing over a period of time. Each step eases restrictions in different areas including sports, places of worship, libraries, and others. There are 4 steps, and there is a minimum of 3 weeks between each step. I encourage residents to continue with what they have been doing because there are zero cases in Special Areas 2.  You have done an exceptional job to contain the spread of this contagious virus.
The Provincial Budget was announced on Thursday and one of the items the Elected Officials and Town Administration watch closely is the availability of Municipal Sustainability Initiative (MSI) funding.  MSI funds infrastructure projects such as roads, sidewalks, water, and sewer. This funding is crucial to addressing Hanna's infrastructure deficit. The 2021 budgeted allotment for Hanna is larger than the amount received in 2020, which is good news, but in 2022 and 2023 it is projected that this funding will be significantly reduced, which is very concerning. Council and administration will continue their diligence and history of capitalizing on these funding opportunities now and in the future.
Administration and staff will continue to monitor the Covid-19 guidelines set out by the province to be well prepared as restrictions are adjusted.
Stay safe and be well.
Respectfully
Chris Warwick, Mayor
Reminder
The Cervus Equipment Walking Track and the Fitness Center can now be used, but you need to book!  You can book online by going to the Town of Hanna website or you can phone (403) 854-4433.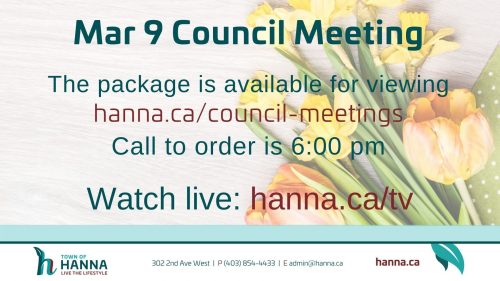 Feel Good February a Success
February may be the shortest month of the year but many citizens took advantage of the program offered by the Town of Hanna to feel good.   February gave us a mile-long list of ideas to feel good about right here in Hanna.  Simple pleasures like taking time out for relaxation and rest to trying new physical activities were all part of the campaign.   Thank you to all who participated.
Winners of the weekly draws were provided with $50 Hanna Chamber bucks. The  grand prize winner from all participants over the month of February was awarded $100 Hanna Chamber bucks. While the contest is complete the challenge is still there for you to continue to enjoy the many benefits of Hanna's lifestyle.
Congratulations to the weekly  winners:
Week One :  Heather Pedersen
Week Two : Kari Moyer
Week Three : Shauna McAfee
Week Four: Tammy MacMillan
Grand Prize:  Sheila Taylor
Tax Time!  Volunteers are Ready
The Community Volunteer Income Tax Program is a free service where trained volunteers file tax returns for eligible people.  Hanna FCSS is pleased to announce that they have been approved by the Government of Canada to provide this service.
In order to be eligible for the CVITP (Community Volunteer Income Tax Program), individuals must have a modest income and a simple tax situation. Individuals assisted by the program include:
Indigenous peoples
Newcomers and refugees
Persons with disabilities
Seniors
Youth/students
Homeless and housing insecure individuals
Individuals with a modest income
Please phone the Town Office to book an available time for a volunteer to phone you.  Together, you will determine eligibility. (403) 854-4433.
​​Have you thought about running for Town Council? This could be your year! There's an election in October and nominations are open NOW!  Visit hanna.ca/election for details.