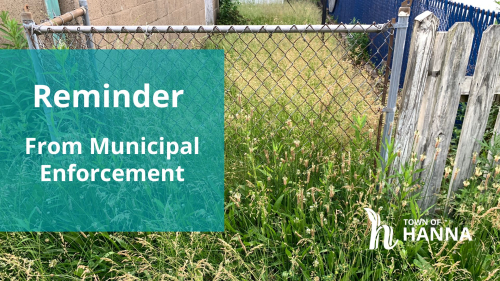 Did you know that residential and commercial property values may be impacted by neighboring unsightly property? Please be a good neighbor by cleaning up your property and removing items that are not permitted under the bylaw. It is your responsibility to regularly maintain your property.
Proactive and complaint-based patrols are underway to ensure all residents and business owners are compliant.
Here are some key points to ensure you maintain your property in accordance with the Town of Hanna's Unsightly Premise Bylaw #947-2009 and Waste Bylaw #825.
Any excessive accumulation of construction materials, building materials, inoperable vehicles, appliances, machinery, yard waste, household waste and any other form of debris stored on your property including along the alleys, are to be removed. 
Residential properties are not to be used as storage for commercial items or items that relate to commercial use that contravene the terms of a home-based business license.
Commercial property is to be maintained and clear of any scrap metals and junked vehicle parts. Any inoperable vehicles, trailers or machinery that are not being repaired, construction or building debris that is not in use.
All stored items need to be for an intended purpose and must be stored in an orderly fashion so as to not appear unsightly.
The Town of Hanna is planning its annual Fall Compost Pickup in October. More details regarding the preparation of your compost materials for pickup as well as the pickup date will be provided in the coming weeks.
If you have a concern, you may visit the Town Office or use the "Report a Concern" form available: https://hanna.ca/report-a-concern