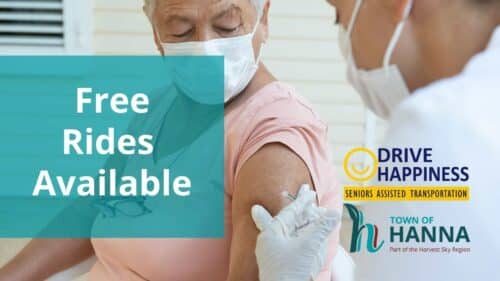 Drive Happiness has received funding to assist with getting to your vaccination appointments.
Just follow the instructions below!
The Public Health Agency of Canada has funded Drive Happiness through the immunization Partnership Fund. The aim is to reduce transportation barriers for those who have chosen to be vaccinated. This applies to anyone over the age of 18, a vaccine-specific appointment (flu shot, covid, shingles, etc), and lives in the area.
Contact Drive Happiness at 1-888-336-4503. Be prepared to leave a voicemail with your name, phone number, and date of your appointment.
These rides, if available are *FREE* of charge if you meet the above criteria. Now, Drive Happiness still needs drivers for the Hanna area. If you might be able to assist, even an hour a month, please contact Drive Happiness today. Taking active steps toward protecting the members of our communities is something we can all be proud of. And, having affordable transportation is a win-win. Again 1-888-336-4503.
1-800-336-4503