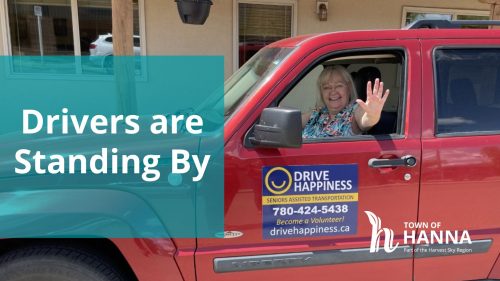 The town of Hanna is pleased to announce that three Hanna citizens have completed the application process and are now approved to be volunteer drivers with Drive Happiness!
Adeline Cottrell, Kim Barth, and Bill Paisley have met the requirements and have been approved to begin accepting rider match-ups immediately. Drive Happiness provides transportation to seniors (65+) in need of travel services due to limited income, mobility, and other health-related issues. Drivers must provide the following in order to be considered:
Volunteer Application Form (including vehicle details and availability)
Police Clearance including Vulnerable Sector Check
Clean Drivers Abstract for the last 3 years
Copy of full class 5 driver's license and another form of government I.D.
Proof of registration
Proof of insurance.
Adeline, Kim, and Bill will receive a fuel reimbursement, meet friendly and appreciative seniors and certainly make a difference in Hanna.
Need A Ride?
Riders must go through an application process as well so do not delay! Eligibility includes:
65+ years of age
able to enter and exit vehicles with limited assistance
able to complete an application form although assistance can be requested
rides need to be booked a MINIMUM of THREE FULL BUSINESS DAYS in advance
able to purchase tickets* in $10 increments. This ticket entitles the rider to ninety minutes of time and/or 40 km driving distance.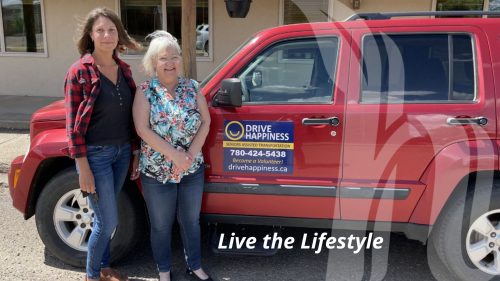 *NOTE: Volunteer drivers do not book rides, sell tickets or take money. This is all transacted through Drive Happiness.
Where To Begin?
Visit the transportation information page on the Town of Hanna website or go directly to the Drive Happiness website to begin your application. See these details below:
Contact
Of course, you can always contact the Town Office and ask for Michele. 1-403-854-4433.