An ode to Hanna's Public Works Professionals.
Thank you for staying up past my bedtime so I can take a shower the next day.

Thank you for working up 3 hours before me so the major roads are cleared and sanded so I can get to work.
Thank you for carefully testing my water each and every day so I can drink it.
Thank you for working through the heat of the summer filling the winter potholes so I can have a smooth drive with my AC full blast.
Thank you for dealing with my 💩 so I don't have to that would be gross.
Thanks you for being the men and women behind the scenes so we can get stuff done without problems.
National Public Works Week
May 16 – 22, 2021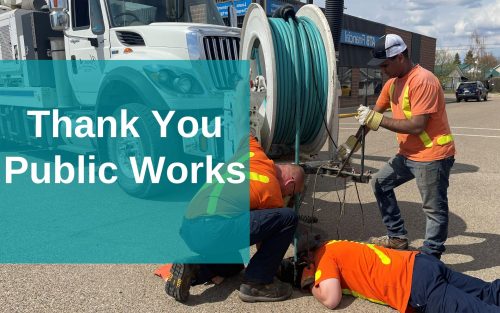 Public works professionals focus on infrastructure, facilities and services that are of vital importance to sustainable and resilient communities and to the public health, high quality of life and well-being of Hanna citizens.
These services and their related infrastructure could not be provided without the dedicated efforts of public works employees at all levels of government and the private sector, who are responsible for rebuilding, improving and protecting Hanna's transportation, water supply, water treatment testing and solid waste systems and other structures and facilities essential for citizens.
2021 marks the 61st annual National Public Works Week sponsored by the Alberta Public Works Association.
If you happen to get a chance, give a wave, tip your cap, deliver pie or quite simply extend a Thank You.