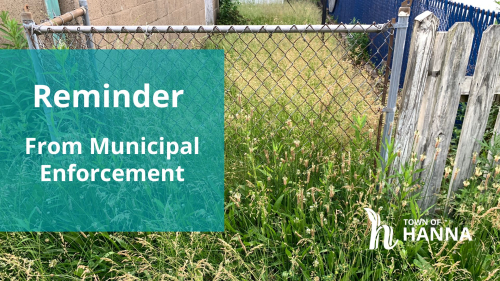 Alleys are easy to forget but when you are doing your yard maintenance, please take a moment to look at your back alley and make sure you give attention to the area between your back yard and the lane.
Take some time to pull weeds or use herbicide, cut grass, paint a fence, trim a tree or shrub, and remove any debris and neglected vehicles.
You are responsible for a reasonable amount of minimum care on your front, side and rear boulevards. There are minimum standards for yard maintenance in the Unsightly Properties bylaw, but the bottom line is to look with fresh eyes and see what you can do to improve the appearance of your property and the surrounding boulevards. 
Enforcement of this bylaw is done first through education and communication and if compliance is not obtained, the issuance of Enforcement Orders, possible fines, or court appearances.   Serious disregard for property maintenance can result in the Town taking action to remediate the property at the cost of the property owner. Failure to pay the bill could result in the amount owing added to the property taxes.
Bylaw enforcement services are provided through a contract with Special Areas. Enforcement Officers work with Town Administration to identify priority areas. Currently, the focus is on unsightly and overgrown yards, boulevards and alleys. Complaints can be submitted at the Town Office or hanna.ca/report-a-concern. Anonymous and social media complaints are not considered.