Fun Events and Activities for the Summer of 2021
The schedule of Summer 2021 events and activities changes daily.  When you are looking to see what's happening, visit the Town Event Calendar at hanna.ca/events.  Soon, you will be able to filter events by Family, Adult, or Youth.  You will not only find dates, but you will also find prices, locations, contact details, and more.
It's also likely that there may be changes to the Canada Day Schedule so be sure to check the final schedule and save it to your device before heading out.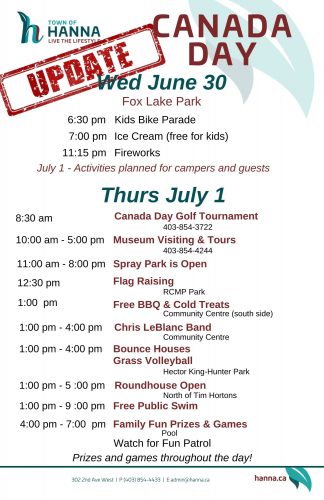 Canada Day
Celebrate Canada Day starting Friday at 6:30 all the way to Saturday evening!  Highlights include Fireworks, Golfing, Flag Raising, Live Music, Free Swimming and much more.  All ages are welcome and current restrictions will apply.
Max: varies & tbd
Fee: With the exception of the Golf Tournament, most things are free.
Location: Fox Lake Park, Hector King-Hunter Park & Pool
Dates: Wed Jun 30 & Thurs July 1
Time: see schedule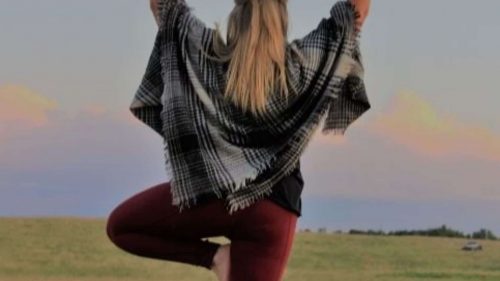 Yoga Monday
Many paths, one destination.  Carla from One Breath Yoga invites you to join her Monday evenings to challenge your body, focus your mind and relax your spirit.
Max: TBD
Fee: $5 per 4-week session
Location: Hector King-Hunter Park
Dates: Session 1: Mondays June 28, July 5, 12 & 19
Dates: Session 2: Mondays Aug 9, 16, 23 & 30
Time: 6:00 pm to 7:00 pm
Meet Carla
Carla has experience in teaching kickboxing, cycle pacing, cardio kickboxing, step aerobics, and other individual and group classes.  In 2016 she added her RYT certification and has been sharing yoga since.  All these activities support her love for connection, learning, self-discovery, and exploring movement.  She has instructed over 1000 hours and taken advanced training in Yoga Nidra, Restorative and various other diverse yoga teachings, philosophies, and practices.  In 2018, One Breath Wellness became a new adventure, which has kept yoga in the community.
There is no such thing as not being a "yoga body", yoga is for everyone with an open mind and open heart.
Carla Heiland, One Breath Yoga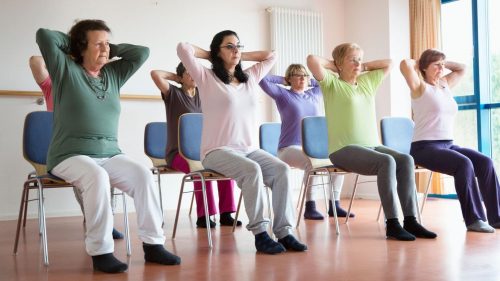 Chair Yoga
Perfect for Seniors yet open to all ages.  Join Bluebell on the west patio of the Community Centre.  Face Hector King-Hunter Park and enjoy nature and privacy while participating in an afternoon guided group stretch.  Chairs are provided.
Max: 9 attendees
Fee: $5 includes all 4 classes
Location: Patio on West side of Community Centre
Dates: Tuesdays June 8, 15, 22 & 29
Times: 2:00 pm – 3:00 pm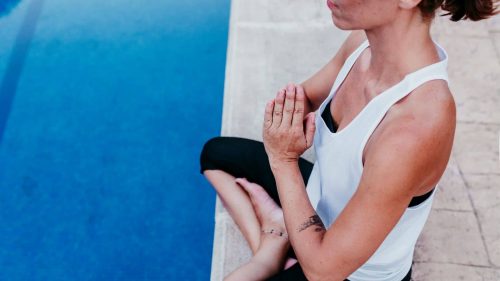 Rise & Shine
An option for beginners of the sport or those who care to keep it mild. Bluebell will guide you through gentle stretches to begin or continue your yoga journey.  Appreciate the sunrise over the water as it wakes your soul.
Max: 9 attendees
Fee: $5 includes all 3 classes
Location: Pool Side
Dates: Tues's. July 20, 27 & Aug 3
Times: 7:30 am – 8:45 am
Meet Bluebell
She is a mom, a lover of books, an energy worker, a vegetable connoisseur, and a Yogi nomad. Known for Breathwork, Buti Yoga and Chair yoga, Bluebell Rivers is a trained Hatha Yoga teacher about to complete her first year of training in July. She will then be (RYT-500) certified with the second year of schooling starting in September.  Bluebell rounds out her training with Sound Yoga, Pranayama, Restorative, Interoception, and Primal Flow and has plans to continue to expand her skills.
Yoga is for human beings being human which is to say that it is for everyone!
Bluebell Rivers, Rivers Yoga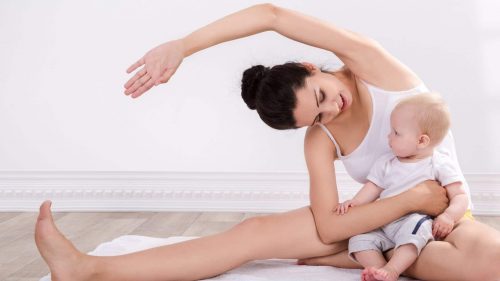 Parent & Tot Yoga
Explore the ins and outs, and ups and downs or sharing your mat with your mini.  Bluebell will join you and your toddler(s) aged 2 and over.  All that eye-to-eye and skin-to-skin contact will have you and your littles bonding like crazy. 
Max: 9 families
Fee: $5 includes for 3 classes
Location: Hector King-Hunter Park
Dates: Tuesdays August 10, 17 & 24
Times: 10:00 am – 11:00 am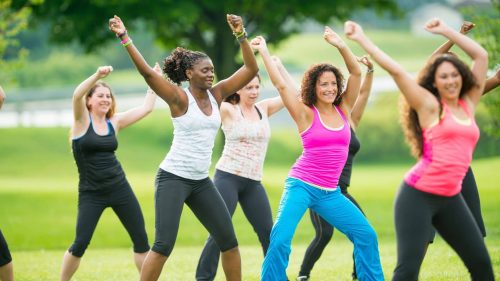 Zumba
Robin joins us again this summer for some exercise and fitness at Hector King-Hunter Park on Wednesday evenings starting Jun 9.  Zumba is a fun and exciting way to get your heart rate up and stay active all summer long dancing to music with friends.
Max: 9 attendees
Fee: $5 ea ($10 for the family) for a four-week session
Location: Hector King-Hunter Park
Dates: Wednesdays  6:00 pm – 7:00 pm
 – Session 1 June 9, 16, 23 & 30
 – Session 2: Jul 7, 14, 21 & 28
 – Session 3: Aug 4, 11, 18 & 25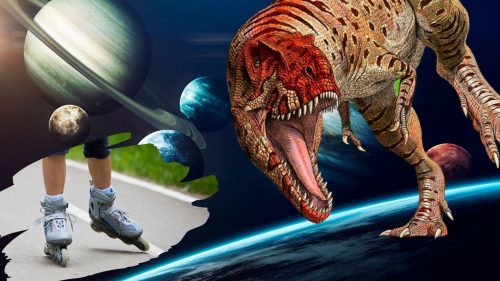 Fun for Everyone
July 21: Using high-definition technology, exploring the Astro-Dome will be an out-of-this-world experience.
Aug 16: Join Canada's leading skate school in a fun-for-all atmosphere, learning to rollerblade.
Aug 19: Up Close and Paleo:  Ask an expert!  Engage in discussions with Tyrrell Museum scientists, and find out the latest in paleontology directly from those actually conducting the research.
Max: TBD
Fee: $5 ea
Location: TBD
Dates: Jul 21, Aug 16, Aug 19
Time: varies
Professional musicians will be providing live entertainment on Sundays starting June 27.  Get outside, relax and enjoy top-notch talent Free of charge due to support from the Blue Cross Covid Community Roots Program grant and Hanna FCSS.
Max: varies
Fee: Free although a 'tip hat' will be circulated if you wish to offer a gratuity to the musicians.  Donations to the food bank will also be collected if you wish to donate.
Location: Hector King-Hunter Park
Dates: Sundays 4:00 pm to 5:30 pm
– June 27: Scotch & Starlight ft. Lisa Dodd & Ryan Davidson
– July 04: Scotch & Starlight ft. Lisa Dodd & Ryan Davidson
– July 11: El Mule ft Trevor Christensen
– July 18: Garrett Gregory
– July 25: Jenn Beaupre
– Aug 01: Jaydee Bixby
– Aug 08: TBA
– Aug 15: YYCStringMachine
– Aug 22: TBA
– Aug 30: Kat Danser
Epic Adventures
In response to Covid, Epic has adapted to offer programs Mon, Wed & Fri starting on July 5.  As always each week has a theme and campers are encouraged to pre-register as space is limited.  Be sure to visit hanna.ca/youth for registration forms and the brochure.
Max: varies
Fee: $5 per child per day
Location: Centennial Place
Dates: Mon, Wed & Fri
Time: 9:00 am to Noon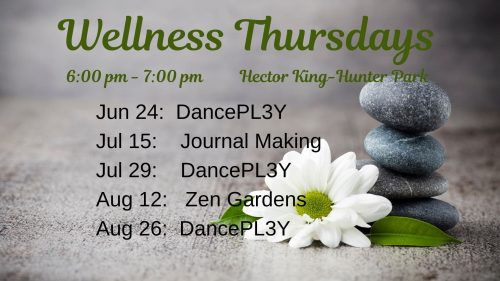 Wellness Thursdays
Be positive, be fun, be yourself!  Set aside some time on Thursdays to look after your physical and/or mental wellness.  Nadine will be coaching us through DancePL3Y to improve our physical literacy through new movements to music.  Mix in some mental wellness activities to balance out the physical side.  Project Reach has allowed Jennifer and Andrea to walk us through the importance of Journalling and making Zen Gardens.  A perfect way to relax and create a space of peacefulness to display in your office or home.
DancePL3Y
Other
Max #:
tbd
Up to 18 participants
Fee
A commitment is requested therefore, registrants are to pay a non-refundable $5 (for all three classes) and/or a donation to the food bank.
No Fee
Dates:
Jun 24, Jul 9, Aug 26 (last Thurs of the month)

Jul 15: Journal Making with Jennifer Palmer

Aug 12: Zen Gardens with Andrea Olsen

Times:
6:00 pm – 7:00 pm
6:00 pm – 7:00 pm
 Located at Hector King-Hunter Park