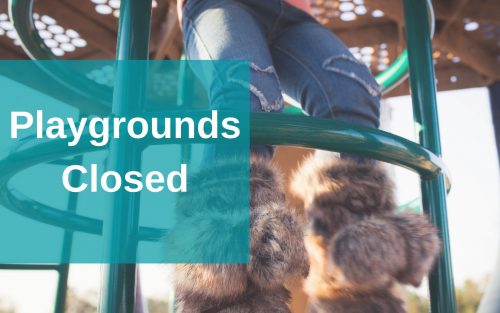 Effective Apr. 29, Town of Hanna playgrounds are closed.
On Tues. Mar. 24, notices regarding COVID-19 were posted at all town owned playgrounds advising residents that the playground equipment is not santized.  The signs indicated that equipment could be used but advised that the virus could be contracted from playground equipment surfaces or being in close physical distance to others.  The signage also indicated that anyone who chooses to use the equipment needs to thoroughly wash their hands and at the first opportunity and practise proper physical distancing.  This message was also posted on the Town of Hanna website at hanna.ca/covid19 and shared on town social media.
Town of Hanna took this stance as it was based on the recommendation of the Canadian Playground Safety Intitute at the time and supported this recommendation since it would be difficult to enforce closure and the appearance of taped or fenced playgrounds didn't seem right at the time.  Signing, yet leaving them open allowed residents to make their own decision on whether to use the equipment or not.
Since then:
Many municipal playgrounds in Alberta have been officially closed.
Provincial Parks have been closed
PLRD has closed the school playgrounds and signed them.
The Mayor indicated in two videos that the playgrounds were closed, causing some confusion.  Administration felt that the Mayor mentioning that the playgrounds were closed wasn't a bad thing because it was a more stringent direction.
This week, residents took to social media, confused about the different messages and this led to a debate about whether the town playgrounds should be open or closed.  As a result, Administration reached out to CPSI and were advised that they have changed their position on this issue.  Their latest recommendation is to follow local and provincial guidelines and post that playgrounds are closed.  They have provided cautions when doing that, such as not wrapping with tape to create another hazard, posting on all four sides of the playground &  at the entrance, etc.
Effective yesterday, April 29 Town of Hanna playgrounds are closed.