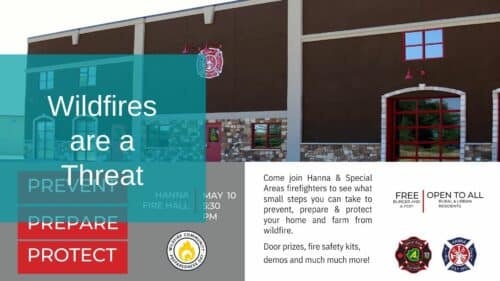 The Town of Hanna and the Special Areas Board are excited to share they are hosting a joint Wildfire Community Preparedness Day on May 10, 2023 in Hanna, AB.
This event is designed to give people a chance to learn what they can do on and around their homes to help protect against the threat of wildfire, whether they live in town or out in the country. Everyone is invited to come down to the Hanna Fire Hall on May 10 at 5:30 pm to enjoy some bbq, meet your local fire department, and learn what you can do to reduce your wildfire risks.
"Fire prevention is something that we all have a part to play in – fire departments, emergency services, and home owners. We want to give people the tools they need to help protect their homes and properties, from removing debris around and under decks to trimming trees and bushes around their homes. We are excited to demo some of the tools people can use, and to show everyone some of what our regional training group has been doing."

David Mohl, Hanna Fire Chief
Trying to prepare your home and property for disasters can feel overwhelming, and you may be asking "What can I do in a single day to help stay safer?". Both Special Areas and Hanna Fire Services will be on hand to share some simple steps you can take to reduce your risks. People can expect to see lots of useful tips and tools at this event, including demonstrations from firefighters. Information on how to use FireSmart principles and tools to prevent homes and buildings from igniting during a wildfire will be featured at this community event, along with how to prepare your family's emergency kit.
"Fire prevention can look different for people who live in the country versus those who live in town. If you live in the country, you are keenly aware of the reality that it takes time for help to arrive when there is a fire or emergency. Community preparedness events like this one will give you the tools you need to prepare and protect your home and property from wildfires. FireSmart principles can make a real difference in whether your home or farm survives a grassfire."

Rob Palmer, Special Areas Fire Chief
No RSVP's are needed – all residents throughout the region are invited to this community event. Grassfire safety toolkits, FireSmart packages, and emergency preparedness tools will all be available at no charge. Door prizes will include 72-hour emergency kits, firefighting tools, and more!
This event is funded in part through FireSmart Canada's Community Preparedness Day program. You can learn more about FireSmart at https://firesmartcanada.ca/homeowners/.