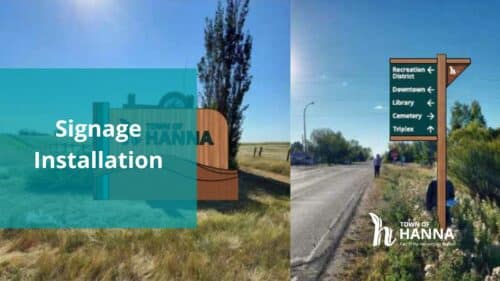 The Community Development Plan was a recommendation from the Town of Hanna Strategic Plan created in consultation with Doug Griffiths – 13 Ways. The Community Development Plan had three components identified as follows:
a Senior's Amenity Zone,
a Signage Project, and
a Downtown Development Project.
In the summer of 2021, 818 Studios held many consultations with local residents. They set up an office adjacent to the post office, had a table at a number of the weekly Farmer's Markets, and sent surveys to the downtown businesses among other initiatives. These consultations that summer allowed residents to provide their opinions on the draft designs they had prepared for each of these projects. Specific to the signage project, Hanna residents requested the following features:
A clean modern look,
Wood, steel and color,
Low maintenance,
Visibility and uniqueness, and
Integrate town branding and logo.
In June 2022 Harvest Sky Economic Development Corporation presented Council with drawings showing a proposed vision and aesthetic for the signage. As a result, Council gave 818 Studios and Harvest Sky EDC permission to proceed to the tender phase.
The 11 tenders that were received varied in price from $244,374.30 to $516,210.72. After reviewing and comparing the bids, warranty information, and bid bond, the parties recommended the bid from Hi Signs in the amount of $262,227.41. Harvest Sky EDC then entered into a contract with Hi Signs to complete the work within the timeframe to meet the grant requirements. 100% of the funding required for the signage project was again provided by the Federal Government through the Canada Coal Transition Funding Program.
After months of design work and many visits to Hanna and to Youngstown, Town Administration began to work closely with representatives of Hi Signs on planning details, including priorities, locations and timelines. The first step was to review some signage concepts see images below
Starting today, Mar 7, 2023 representatives of Hi Signs will be in Hanna to begin installing signage on Town facilities. Once the ice has melted enough, they will begin to install the screw pile bases for the signage that is free-standing. There will be a total of 38 signage changes within the Town of Hanna, including the replacement of the three monument signs on highways 9 and 36 North.