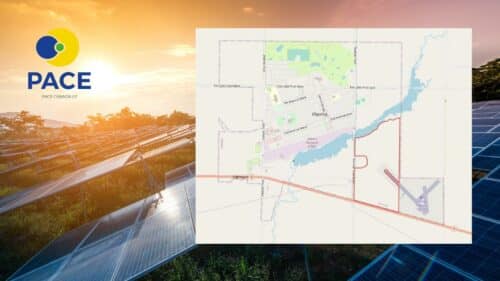 Town Council received a presentation from PACE Canada at their Jan 25, 2023, Council Information Meeting in regards to a proposed solar farm within the Town of Hanna Corporate Limits.
Further to this PACE Canada has recently provided a mailout to the Hanna Post Office for distribution to over 1200 local mailboxes announcing a virtual Public Information and Consultation Session scheduled for Mar 14, with this consultation the first of 3 or possibly 4 consultation sessions.
Since this project is proposed to be within Town of Hanna corporate limits, Town Council and Administration want to ensure that as many residents as possible are aware of the proposed development and if they chose to, they can register for the virtual engagement session on Mar 14. Pace Canada LP has provided some information that can be found by following the links on this page.
The project is being called Harvest Sky Solar and has launched a project website – harvestskysolar.ca – where updated project information will be provided by the Developer as it is available. (i.e. glint and glare studies, noise studies, environmental evaluations, etc.).
PACE Canada has also supplied the following documents:
– Notice of Proposed Solar Farm Development and Project Overview
– Frequently Asked Questions and Concerns developed by PACE Canada.
Public Consultation Details
Tues. Mar 14, 2023, from 6:00 pm to 8:00 pm 6:30 pm to 8:30 pm (clarified directly with PACE Canada) is a scheduled virtual Public Information and Consultation Session. PACE Canada indicate that Mar 14 is the first of 3 or possibly 4 consultation sessions, two of which will be in person. The in-person session will be scheduled at a later date once some of the studies have been completed. PACE Canada has indicated they will not be using social media as an engagement tool, but encourage people to contact them to answer questions or address concerns either in-person, by email or by phone.
Registration Information
Title: Harvest Sky Solar Farm – Public Information and Consultation Session
When: Tues. March 14, 2023, 6:30 pm to 8:30 pm
Register in Advance: https://meet.zoho.com/YLRT3horow
After registering, you will receive a confirmation email containing information about joining.
Information on the Regulatory Approval Process
The construction and operation of a power generation facility falls under the jurisdiction of the Alberta Utilities Commission (AUC) and requires an application to the AUC under section 11 of the Hydro and Electric Energy Act. A generation facility could include thermal energy (includes coal and natural gas), wind energy, solar energy, hydro energy, and other (includes biomass, waste heat, etc.). Please see the AUC website for a list of recent power plant decisions and further information on the process. https://www.auc.ab.ca/regulatory_documents/power-plant/
Power generation approvals are largely a provincial matter as the authority rests with AUC for approval. The Town can require a development permit, but must approve it to the extent that the AUC has granted approval as outlined in section 619(1) of the MGA: "619(1) A licence, permit, approval or other authorization granted by the NRCB, ERCB, AER, AEUB or AUC prevails, in accordance with this section, over any statutory plan, land use bylaw, subdivision decision or development decision by a subdivision authority, development authority, subdivision, and development appeal board, or the Land and Property Rights Tribunal or any other authorization under this Part."