With more than 43 km of streets and back lanes, ensuring safe and efficient traffic flow is critical. Below is a link to an interactive map, which provides the most current information.  In the spring and summer months, the map shows you the streets that are next in the queue for street sweeping. In the winter months, if snow removal is being conducted, the map will indicate that as well.
You can see areas that are complete and the streets that are marked to be completed next. This map is updated daily by 5:00 pm during the snow removal or street sweeping periods.
Green: Complete
Yellow: Coming Soon
Red: Next in Line
Click the button to be redirected to the map.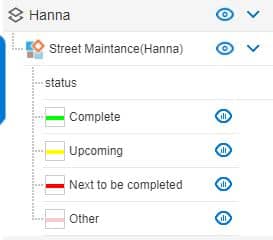 Updated Jan 23, 2023:  Starting the morning of Tues Jan 24, the following areas are going to be piled and hauled.
Winkler Dr.
Shacker Cr.
possibly Stephens Cr.
It is appreciated when vehicles are removed by 7:00 am.
Too often, people wait until they hear the equipment and then they move their vehicles. What they don't realize is that a pass or two may have already been completed. Maneuvering around vehicles with heavy-duty equipment, on icy streets demands a lot of focus and attention. If there are no vehicles, the job can be much quicker and the crew can move to another section of town. This is why we ask for vehicles to be moved at 7:00 am and stay away until the signs are removed.
Priority Areas (snow)
Emergency vehicle access routes
Collector streets – Palliser Trail, Fox Lake Trail, Pioneer Trail, 2 Avenue, 3 Street and Centre Street.
School Bus Routes – 7 Avenue and the streets around JC Charyk and the east bus stop.
Airport
Residential streets and avenues
Cul-de-sacs and crescents