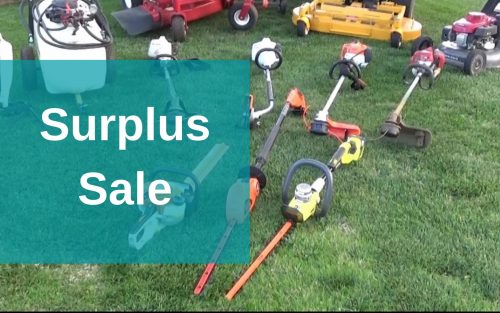 While preparing equipment for use this spring, there have been several items found that the Town of Hanna no longer requires.  All equipment hs been checked and is in working order. 
These items will be placed on display at the arena:
Wed. June 24 3:30 pm to 7:00 pm
Thur. June 25 from 3:30 pm to 7:00 pm
Fri. June 26 from 9:00 am to Noon
Sealed bids will be accepted until Mon. June 29 at 1:00 pm at the Town Office. 
Note: Please use the preferred  Bid Sheet.
Items Available:
Floating Block Dock System
Wire and Coco Lined Hanging Baskets x 11
Wire and Coco Lined Hanging Baskets x 11
Honda Weed Trimmer x 2
Husqvarna 240 Weed Trimmer x 2
John Deere 516R Rear Tiller
John Deere JS40 Push Mower
John Deere LX172 Ride on Mower
Oxy Acetylene Tank Holder and Attachment (good condition)
Portable Chair Storage Racks x 3
4′ x 4′ (approx) used outdoor rink boards x 75
Click on the images below to see additional views.
Hanging Flower Baskets
18″ wire and coco lined baskets x 11
16″ wire and coco lined baskets x 14
Floating Dock
62 blocks plus accessories
Honda Weed Trimmer
2 units available
Husqvarna Weed Trimmer
Model: 240,  2 units available
John Deere Tiller
516R rear tiller
John Deere Mower
JS40 push mower
John Deere Mower
LX172 ride on mower
Oxy Acetylene
tank holder and attachment (good condition)
Chair Storage
Portable racks.  3 large frame racks
Rink Boards
Size approx 4′ x 4′.  75 items.  (used condition)