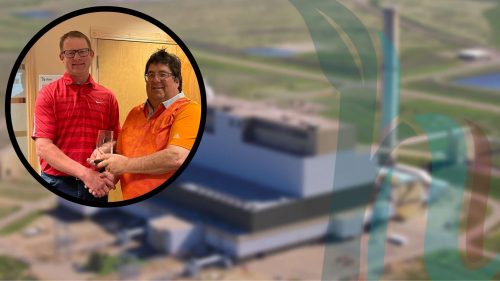 Mayor Danny Povaschuk accepted a memento, signifying the end of the burning of coal from Ellison Krismer, Manager of Maintenance / Engineering, Sheerness.
Heartland Generation's transition off-coal was completed nearly a decade ahead of regulatory deadlines and is expected to reduce greenhouse gas (GHG) emission intensities at Battle River and Sheerness by 45% to 50%, depending on the generation factor. In addition, emissions of nitrous oxides will be reduced by a similar amount while emissions of sulphur dioxide, particulate matter, and mercury will be eliminated, resulting in additional air quality improvements in Alberta.
Advancing the off-coal conversions of Battle River and Sheerness has been a priority for Heartland Generation since acquiring its asset portfolio in Oct. 2019. Heartland Generation has invested approximately $85 million completing the transition from coal to natural gas over the past two years and plans on spending up to an additional $150 million on coal-supply termination and mine remediation, as well as long-term commitments for firm natural gas transportation to support continued safe and reliable power generation.
Over the past two years, Heartland Generation has also focused on prioritizing the dispatch of electricity toward portfolio assets with the lowest GHG intensities. These continued efforts, in addition to the coal-to-gas conversions, are anticipated to result in GHG emissions reductions of approximately 4.5 million gross tonnes (MT), or 35% annually relative to the historic five-year average.