Open House Summary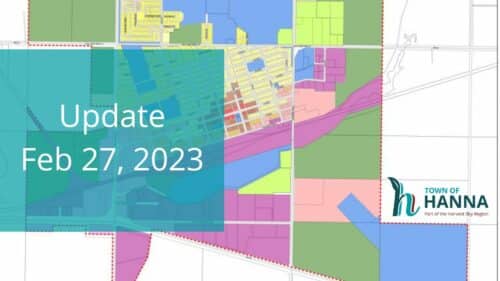 Palliser Regional Municipal Services and the Town of Hanna would like to thank everyone for their attendance at the Open House held on February 23, 2023. You can view a copy of the poster boards presented at the Open House here. Due to the overwhelming turnout and residents' desires to provide feedback, more time will be required to complete the process than was originally anticipated.
Affected residents and business owners within the Town of Hanna are encouraged to take additional time to review the new Draft Land Use Bylaw, the proposed changes to the Land Use Map, the Summary of Proposed Changes and Rationale, and the proposed Telecommunication Structure Policy.
Palliser staff and Town Administration remain available to answer questions and discuss any resident of Hanna or business owner concerns. You can download and complete a copy of the Draft Land Use Bylaw survey form here.
You can submit your written comments directly to Tracy at twoitenko@palliserservices.ca. You can also deliver your written comments to the Town or Palliser Offices in Hanna. Comments must be received by March 22, 2023.
What are the next steps in the process?
Palliser staff will consolidate all comments and feedback received into a "What We Heard Report". The report will be used to direct revisions to the Draft Land Use Bylaw. Palliser and the Town will determine if further opportunities, such as a survey or open house, will be required based on the number of changes to the draft and any outstanding questions that require further clarification or direction.
How is the Land Use Bylaw approved, and when will it come into effect?
Council considers the approval of a Land Use Bylaw through three readings of a bylaw. A formal public hearing is also required after first reading of the bylaw. Council can make amendments to the bylaw at any of the three readings of the bylaw.
The Land Use Bylaw comes into effect after it receives three readings. An effective date will be chosen and written into the bylaw for transparency and clarification. It was anticipated the new Land Use Bylaw could be in effect by May 1, 2023. With the additional time being added to the process, a new date will need to be determined.