08-June-2023 3:00 pm
The request to conserve water, from Henry Kroeger Regional Water Commission has been lifted! You may resume to normal use. Thanks for everyone's cooperation. It really did make a difference.
---
07-June-2023 5:00 PM
Water Update: The break has been located. Work will begin at 7:00 am and hoping to be back to regular consumption by the end of the day tomorrow. Thank you for complying as the Henry Kroeger Regional Water Commission has noticed a definite reduction in water use.
If you have not, you might want to sign up for the Town Notification System. Visit hanna.ca/alerts and get signed up today. Note that signing up is not immediate. Once you provide your information, it takes time for it to be registered. If you are receiving the notifications and want to be removed, send us an email to admin@hanna.ca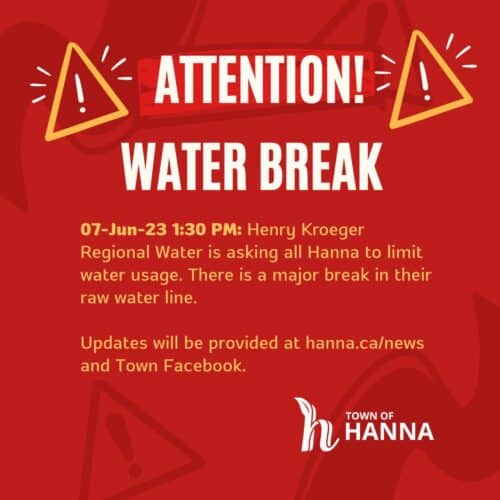 07-June-2023 1:30 PM
Henry Kroeger Regional Water Commission has asked all Hanna to limit water usage until further notice. There is a major break in their raw water line. Updates will be provided as they are received. The bulk station has already been shut down as have outlying fill stations. Please check here, hanna.ca/news for the most up-to-date and accurate information. Ways to conserve include holding off on laundry, dishwashing, watering, car washes and of course, the Spray Park will not open this afternoon as previously announced.