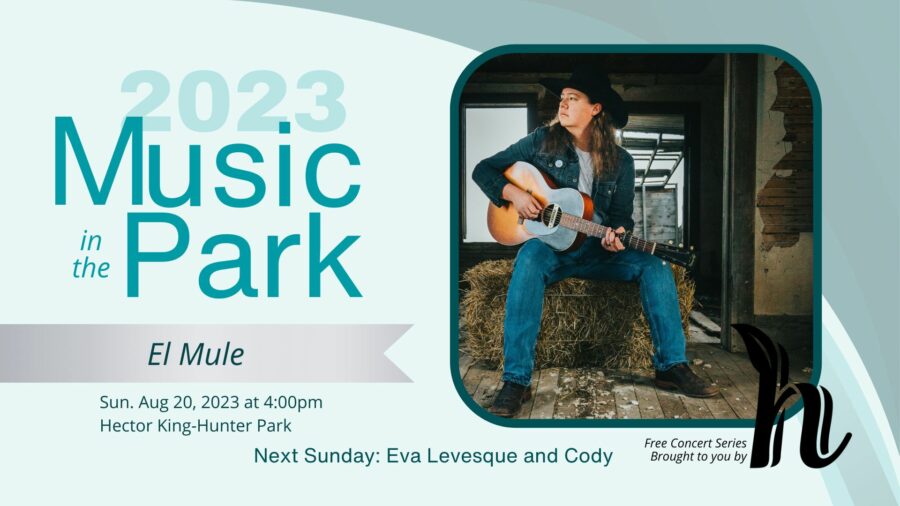 Rain or shine, El Mule returns to Hanna's Music in the Park performing Sunday Aug 20 at 4:00 pm, in Hector King-Hunter Park.  When asked about his music Trevor Christensen stated that he focuses on "Stories from my life, and the lives of those around me".
Described as 'Haunted Prairie Sounds'. El Mule brings together country and rock with a working man's story. The experience of being a sideman for years in the country music scene, countless miles on the road, and the truths of all the people met along the way.  These things together have formed El Mule.
Being raised in rural Alberta, the agricultural lifestyle plays a big part in the stories heard throughout the songs. El Mule takes inspiration from such songwriters as John Prine, Guy Clark, Townes Van Zandt, Jason Isbell, and many others.
El Mule has been nominated twice for Country Music Alberta "Roots Artist of the year" as well as nominated for Country Music Alberta "Album of the Year" for the self-titled debut "El Mule" and for Songwriter of the Year for "Broken Heart Runaway Train".
Relax and enjoy the talent. Bring a lawn chair or a blanket. The performance is planned to be outdoors at the park but if the weather is poor, maybe be moved inside.  Each performance is free of charge and there will be an opportunity to tip the performers.  Mark your calendars for Aug 27 when Eva Levesque joins us.
The 2023 Music in the Park series is brought to you by the Town of Hanna.