Where in Hanna is public Wi-Fi available?
Lions Hall 201 1 Ave E
Visitor Information Centre at 600 South Municipal Road
Centennial Place 501B 3 Street West
Swimming Pool 501 3 Street West
Arena ice surface and lobby 301 5 Street West
Curling Rink ice surface and lobby 501 3 Street West
Community Centre 503 5 Ave West
Fox Lake Park (seasonal)
Town Office 302 2 Ave West
Can I use the wireless network for more than the four free hours?
Will Town employees help me configure my device?
No, Town employees are not able to provide technical assistance and no guarantee is given that you will be able to make a wireless connection.  Town employees are not permitted to handle your equipment.
What do I need to use wireless at a Town facility?
You will need a Wi-Fi compliant wireless laptop or device.
Most Wi-Fi equipment will be compatible but the Town cannot guarantee the compatibility of your equipment with the wireless network.
You will need a web browser such as Edge, Firefox, Safari, Opera, or Chrome.

Set your TCP/IP properties to 'Obtain an IP address automatically'.

It is highly recommended you have a fully charged battery in your device.
What is a wireless/wi-fi network?
A wireless network allows people to connect their laptops or mobile devices to the internet without having to physically plug into a network port.
How do I connect to a wireless network?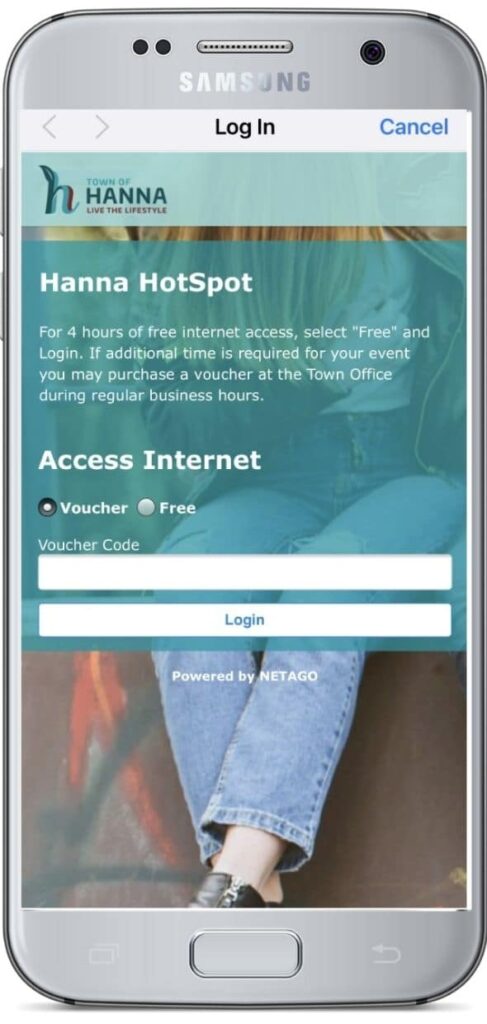 Every wireless device is different but here are some general instructions:
Open your wireless connection software or tool usually in your settings.  In your software, you will be able to scan for any wireless networks.
Your software should present you with all the wireless connections available to you.  In this case, look for ToH Guest.
Choose 'activate' or 'connect', depending on the manufacturer of your device.
Open a web browser and you will see a Town of Hanna login page.  Directly underneath the username and password login boxes, is a link for Free Public WiFi.
Read the terms and conditions and follow the instructions.  Once you have accepted you will be connected to the Town of Hanna Public Wireless for free for up to 4 hours.
My built in wireless network card will not work. How do I enable it?
Please refer to your device's manual on how to enable your Wireless (Wi-Fi).
Is the Town's wireless network encrypted?
No, the wireless network is not encrypted. It is the same security as connecting to a WiFi signal provided by a hotel.  Information sent from or to your device could be captured by someone else using a wireless device and the appropriate software.  The Town assumes no responsibility for the safety, security, files, information, or data stored or transferred to and from your device.  Look for https of the secure website before connecting.

How can I protect my device from viruses and spyware?
People who connect to the wireless network must take responsibility for virus/spyware protection of their own equipment.  It is recommended that you have antivirus and anti-spyware software installed on your device.  You should also ensure that your virus and spyware definitions are always up to date.  Other tips include:
Don't go to unknown/untrusted sites.
Use a Phishing filter with your browser.
Do not open e-mails from unknown contacts.
Beware of suspicious e-mails from contacts you do know, their account may have been compromised.
Do not click on suspicious links.
Scan files you download for viruses or spyware.
Keep your antivirus and security software up to date.
What could happen if I have a virus?
Your files, passwords, and data could be stolen, lost, locked, or compromised in some way.  Virus protection is the responsibility of each client.  If a client's device is attempting to infect other equipment with a virus, the client's access to the wireless network will be removed from the network.
Will I be able to print?
No, there are no printers connected to the wireless network.
Does the Town provide laptops or tablets for people to use?
No.  People must use their own.
Here are some tips to help you use the wireless network.
 Set your wireless card according to the manufacturer's instructions.
Make sure to set your TCP/IP properties to Obtain an IP address automatically.

If requested, choose infrastructure mode rather than ad-hoc mode.

Turn encryption (WEP) off.
Devices sometimes hide your MAC address from being seen.  You will need to click the 'i' beside the network you are wanting to connect to and turn off the hidden feature.
Make sure you are using the SSID name "ToH_Guest".
Make sure all anti-virus and anti-spyware software are current and the definitions are up to date.
Use firewall software and make sure your operating system has the latest security patches.
Arrive with a charged battery and be prepared to be self-powered.
Headphones are required for audio to avoid disturbing other customers.
Will I be disconnected when moving to another building or outside?
Minimizing your movement is recommended. The coverage outside the buildings is limited so the connection will likely drop once you are outside. It should connect again when you enter another Town building but you may have to manually connect.
Can I use a fixed IP address on the wireless network?