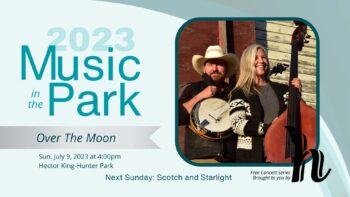 Rain or shine, Over the Moon is performing Sunday July 9 at 4:00 pm, in Hector King-Hunter Park.
Canada's Juno Award-nominated duo "Over The Moon" are totally immersed in real cowboy country. Their music is a wild ride from 40's western swing and Appalachian old-time, to cowboy blues, all featuring their meant-to-be vocals and a wide array of acoustic instruments.
Suzanne Levesque and Craig Bignell are award-winning multi-instrumentalists and vocalists. After discovering their near-perfect blend of voices, often moving people to tears upon hearing them sing together, they stepped over the threshold and Over the Moon was born. Simple and sweet, their music and lyrics have a common thread that speaks of the Canadian West.
Relax and enjoy the talent. Bring a lawn chair or a blanket. The performance is planned to be outdoors at the park but if the weather is poor, maybe be moved inside.  Each performance is free of charge and there will be an opportunity to tip the performers.  Mark your calendars for July 16 when Hanna's own Lisa Dodd Watts – Scotch and Starlight joins us!
The 2023 Music in the Park series is brought to you by the Town of Hanna.