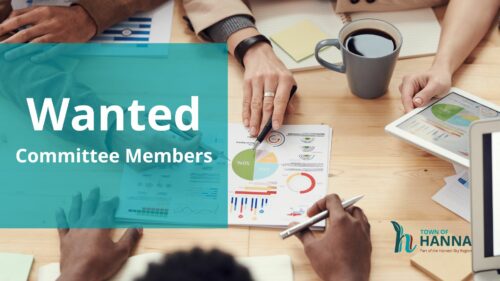 Have you ever considered volunteering on a community board or committee? Now is the time! Positions are available on the following:
Community Services Board: Established by Bylaw 990-2017 for the purpose of providing advice recommendations and assistance regarding culture, recreation, and Family & Community Support Services (FCSS). The board meets a minimum of 5 times per year. Appointees serve a three-year term.
Big Country Housing Authority: This is a management board for affordable Government subsidized senior and community housing projects in Hanna & Cereal. The board meets approximately four times a year. Appointees serve a two-year term.
Fred & Freda Geuder Education Bursary: This group provides recommendations, based on the parameters in Policy 2014-04 for the distribution of the bursary funds. The board meets once or twice in September each year.
Municipal Library Board: Established by Bylaw 407 in 1971 under the authority of the Libraries Act to provide efficient library services in the Town of Hanna. The board meets during the day on a monthly basis. Appointees serve a three-year term.
If you are looking to share your expertise on one or more of the committees listed and are wondering who you might be working with, visit this section of our website: Volunteers,
Once you decide which is right for you, complete and submit an application form. ​The deadline for submitting applications is August 31, 2022.