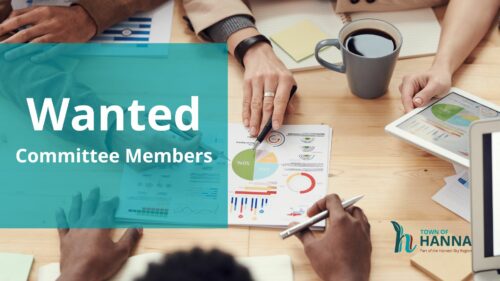 Have you ever considered volunteering on a community board or committee? Now is the time! Positions are available on the following:
Community Services Board: Established by Bylaw 990-2017 for the purpose of providing advice recommendations and assistance regarding culture, recreation, and Family & Community Support Services (FCSS). The board meets a minimum of 5 times per year. Appointees serve a three-year term.
Municipal Planning Commission: Established by Bylaw 989 in 2017 to advise on the planning for orderly, economical and beneficial development and use of land within town limits. The board meets as needed, on average about 4 times a year. Appointees are comprised of 2 elected officials and 3 members of the public who each serve a three-year term.
The Town of Hanna thanks Cody Dale-McNair, Samuel Lockhart, and Chris Warwick for the time they have decided to these volunteer boards. Since these individuals have resigned for various reasons, the Town of Hanna has vacancies on these boards.
If you are looking to share your expertise on one or more of the committees listed and are wondering who you might be working with, visit this section of our website: Volunteers.
Once you decide which is right for you, complete and submit an application form. ​The deadline for submitting applications is June 30, 2023.