On June 20th, 1868, a proclamation signed by the Governor General, Lord Monck, called upon all Her Majesty's loving subjects throughout Canada to join in the celebration of the anniversary of the formation of the union of the British North American provinces in a federation under the name of Canada on July 1, 1867, with the passing of the North American Act of 1867. This was a true milestone in Canada's history – on this day, Canada's four colonies united.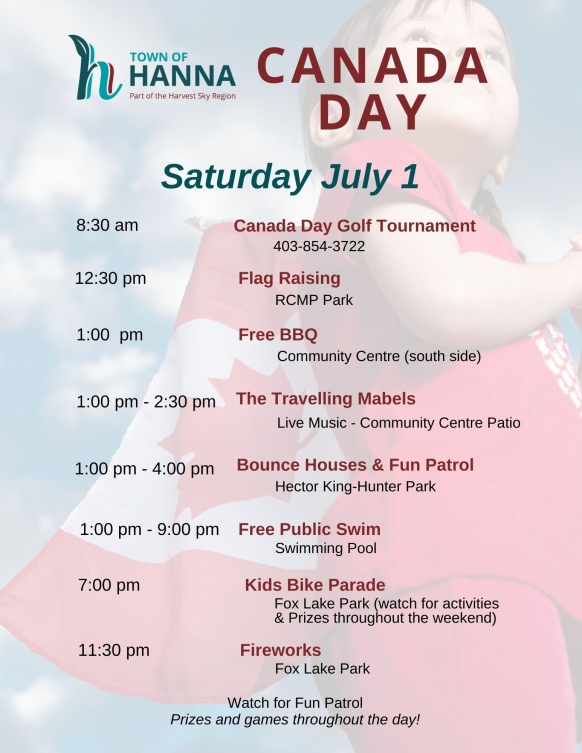 It is common for Canadians to celebrate July 1st with barbeques, warm weather, and fireworks and Hanna is no exception! Have a look at the Canada Day schedule of events:
If you aren't a golfer and don't want to start your day at 8:30 am, come to the flag raising at 12:30 pm at RCMP Park then head to the BBQ at the Community Centre (south side). The Travelling Mabels will be entertaining us on the patio (1:00 to 2:30) while the youngsters enjoy the bounce houses and fun patrol (1:00 to 4:00).
Before the day ends, decorate the bicycles and head out to Fox Lake Park for the 7:00 pm Kids Bike Parade; prizes may be available. Public Swimming is free all day from 1:00 pm to 9:00 pm and before everyone is too tired, grab a blanket and some popcorn and head to Fox Lake Park to watch the fireworks promised to awe and amaze starting at 11:30, weather permitting. They are released over the lake but sound travels so be cautious of your pets and small children.
NOTE: If the weather is not cooperating, updates will be available on our Facebook page. You do not need an account to view it. facebook.com/HannaTown. The full schedule of events can be found at hanna.ca/events
Here are some interesting "Canada" facts:
Canada is a mere 1.5% larger in land than the USA.
Canada has the longest coastline in the world with 125,567 miles of coast.
The Trans-Canada highway is the longest national highway in the world at over 4,725 miles in lengh.
Canada has twice been invaded by the USA, first in 1775 and again in 1812. Both times, the USA lost.
The Hawaiian Pizza was invented in Canada.
Canadians eat more doughnuts per person than any other country.