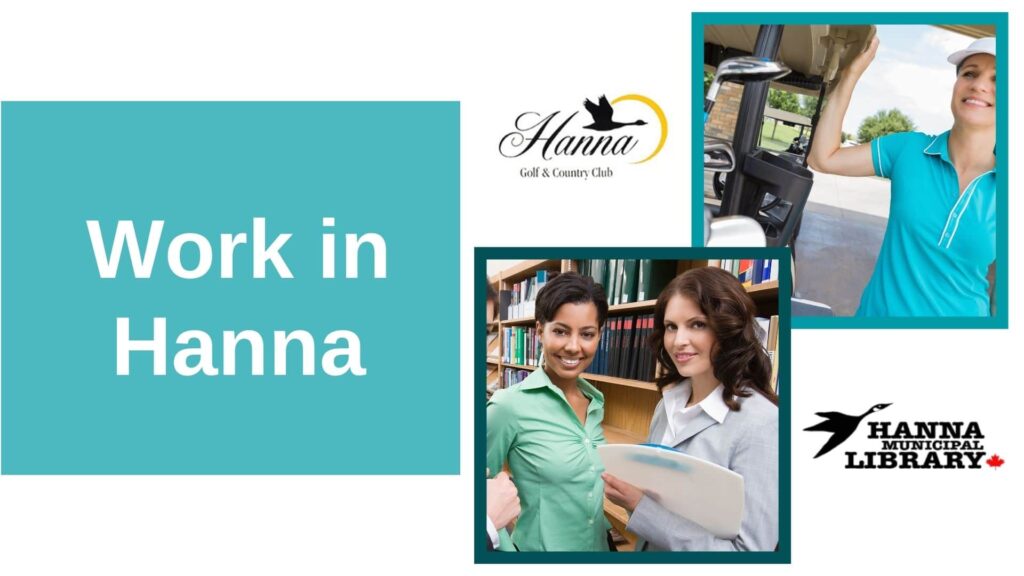 The Golf and Country Club and the Municipal Library, both located in Hanna are seeking management positions. The Golf and Country Club is looking for a Clubhouse Manager. The application deadline for this is Feb. 15, 2022. The Municipal Library is looking for a Library Director. The application deadline is Mar. 1, 2022. Details are below.
Clubhouse Manager
Applications Close: Feb 15, 2022
Expected Start Date: Mar 1, 2022
Type: Full-time, Permanent
Salary: $40,000 to $52,000 plus bonus's
To Apply: submit to tyler.price@outlook.com
The Hanna Golf and Country Club, located in Hanna, Alberta, is a public full-service facility offering an 18-hole golf course with beautiful tree-lined fairways and immaculate greens, a full practice facility, pro shop, and restaurant. The Golf Club is a not-for-profit society under the Societies Act of Alberta and all profits are used to improve the golf course and to upgrade equipment and facilities.
The Golf Club Board of Directors is inviting applications to fill the position of Clubhouse Manager. Reporting to the Board of Directors, the Clubhouse Manager will have overall responsibility for ensuring everything we do is geared toward our members and guests enjoying an excellent golf and social experience. The Clubhouse Manager will have responsibility for growing the Golf Club's membership base and other revenue streams. The Clubhouse Manager will ensure the operation of the Golf Club is carried out in full compliance with all relevant legislation, Golf Club bylaws, and established policies and procedures.
Accountabilities
• Lead, inspire, motivate, and develop the team members in Golf Operations, Food and Beverage, Administration, and Sales & Marketing
• Ensuring the Golf Club's social media presence supports its operational objectives
• Ordering products and supplies for the Clubhouse and restaurant.
• Maintaining our Point of Sale and tee time booking systems.
• Develop programs to excite the Membership group; and maximize the daily green fee play.
• Capitalize on the culinary experience at our well-performing restaurant.
• Prepare and implement long-term and annual business plans and budgets.
• Analyze financial statements and prepare capital and operational plans.
• Continuously improve Hanna Golf and Country Clubs product and service quality.
• Connect with local businesses to create relationships that enhance the Hanna Golf and Country Club and brand.
• Promote and maintain a well-respected and professional image within the Golf Club, golf industry and surrounding community.
Candidate Profile
• Desire and ability to build and flourish Team Member and guest relationships.
• Detail-oriented business manager with industry-relevant education.
• Strong golf background including experience in semi-private courses, delivering an exceptional guest experience.
• Sales and marketing, public relations, and human resources knowledge and experience.
• Exceptional communication skills with the ability to address a large group in a calm and articulate manner.
• High degree of administrative and executive ability, especially in terms of problem-solving and decision making.
• Knowledge of current federal and local laws and regulations affecting the management of golf operations.
Benefits
– Free membership to the course
– Free meal per day
– Free power cart rental (personal use)
– Free Driving range access
– Chamber of Commerce Health and Dental plan
– Holidays – 1 week in the operating season, 2 weeks in the non-operating season (Oct-Apr)
Schedule
– Holidays
– Monday to Friday
– On-call
– Overtime
– Weekend availability
COVID-19 Considerations
Hanna Golf and Country Club is committed to ensuring the safety of all by following all COVID-19 protocols set out by the Alberta Government and AHS.
---
Library Director
Applications Close: Mar 1, 2022 or until a suitable candidate is selected
Type: Full-time, Permanent based on 40 hours per week.
Salary: $23.69 to $27.47/hr
To Apply: submit to ricardo.hoar@gmail.com. Only those chosen for an interview will be contacted.
The Library Director is responsible for implementing the library's Plan of Service through the operations of the Library. The Library Director ensures that the library meets the needs of the residents of the community as defined in the Plan of Service. This position works with and reports to the Town of Hanna Library Board. The Board Chair shall serve as the liaison between the Board and the Library Director in between meetings.
Positions Responsible For
– Volunteers
– Program Coordinator
– Interlibrary Loan Clerk
Responsibilities
– The Library Board
– General Administration
– Personnel Administration
– Financial Control
– Relationship Management
– Other Professional Responsibilities
Qualifications
– High School Diploma required; Post-Secondary Degree preferred
– Experience in a supervisory or management role is an asset.
– Canadian citizen or able to work in Canada.
– Leadership ability.
– High emotional intelligence.
Working Conditions
– Occasional evening or weekend work, or shift work.
– Valid driver's license.
Physical Requirements
– Occasionally stand for extended periods of time.
– Occasionally lift up to 35 pounds.
Benefits
Hanna Municipal Library promotes the well-being of our employees by being flexible and providing a comprehensive benefits package.