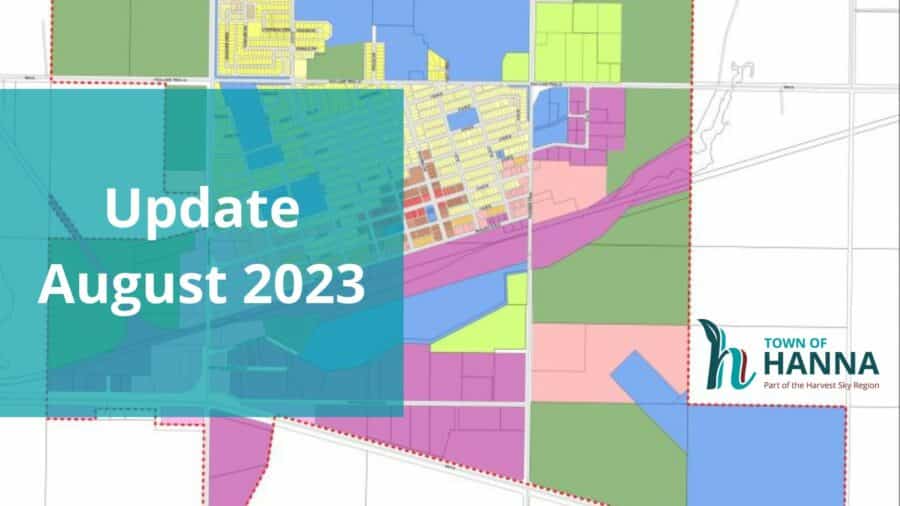 At their regular meeting held on Aug 8, 2023, Hanna Town Council scheduled the date for the public hearing for the new Land Use Bylaw 1032-2023 (Version 2). The public hearing provides the opportunity for affected persons to provide feedback to Hanna Council on the proposed bylaw.
Should you wish to address Hanna Council in person, a public hearing for Bylaw 1032-2023 will be held in the Town of Hanna Community Centre (503-5 Avenue West) on Sept. 13, 2023 commencing at 9:00 am. Council will hear from any person claiming to be affected by the proposed bylaw.
Additionally, written comments may be delivered to the Town Office at Box 430, 302 2 Avenue West, Hanna, Alberta T0J 1P0 or by email. Submissions will be received up to Sept 11, 2023 at 4:00 pm.
The proposed Land Use Bylaw 1032-2023 can be viewed online by clicking the link below or copies may be viewed at the Town Office during business hours. 302 2 Avenue West. Monday through Friday 8:30 am to 4:30 pm.
What are the next steps in the process?
Following the public hearing, Council will consider the bylaw for second and third reading. Council can make amendments to the bylaw at second and third reading.
How is the Land Use Bylaw approved?
Council considers the approval of a Land Use Bylaw through three readings of a bylaw. The formal public hearing is required to be held between first and second reading of the bylaw. Council can make amendments to the bylaw at second or third reading of the bylaw to address concerns heard at the public hearing.
The Land Use Bylaw comes into effect after it receives three readings however, an effective date will be chosen and written into the bylaw for transparency and clarification. It is anticipated that the bylaw come into effect Jan 1, 2024.
Documents
Historical and current information regarding the Land Use Bylaw approval process can be viewed at https://hanna.ca/bylaws-policies.