Address: 104 3rd Avenue West
Administrative Office: 403-854-3393
Hours: 8:00 am to 4:30 pm
24hr Dispatch: 403-854-3391 (To report an accident or compliant)
Emergencies 9-1-1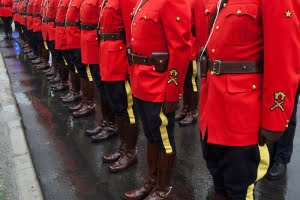 The Staff
The Hanna Detachment of the Royal Canadian Mounted Police currently employs a staff of seven regular Members, two Detachment Services Assistants, and ten on-call guards/matrons.
The Area
The Royal Canadian Mounted Police detachment at Hanna borders on six other RCMP detachments. They are as follows: Brooks, Drumheller, Stettler, Coronation, Consort, and Oyen.
The detachment covers an area of approximately 7,200 kilometers/square including two major highways and several secondary highways and side roads. Highway 9 is a major transportation route between Calgary and Saskatoon, Saskatchewan and the Hanna detachment covers the area from just west of Craigmyle to Highway 884, east of Youngstown. The second major highway covered by the Hanna detachment is Highway 36, from the south intersection of Highway 561 and the north intersection of Highway 586. Highway 36 is a major north/south route serving eastern Alberta from the USA border to Lac La Biche in the north; much of the vehicular traffic on Highway 36 involves the north and south travel to and from Edmonton.
The Hanna RCMP detachment provides service to the residents of several towns, villages, and hamlets. They include, in alphabetical order: Craigmyle, Endiang, Finnegan, Hanna, Pollockville, Richdale, Scapa, Scotfield, Sheerness, Stanmore, Sunnynook, Youngstown, and Watts.
The total population of the area policed by the detachment is approximately 6,000 people
For more information about the Royal Canadian Mounted Police, please visit their website.