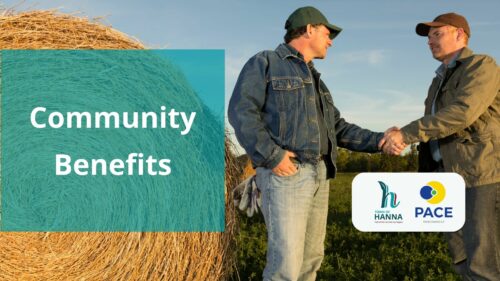 PACE has a solar project called Hanna Sheerness Solar, south of Hanna near the coal mine. They are asking the Town to assist with finding members to form a community-based coalition.
This coalition will formulate a Community Benefits Program by contributing toward the development of the program, establishing the platform, planning and execution. A Community Benefits Program is a formal agreement between a project developer and a community-based coalition that reflects and represents members in the community who are affected by the development. The Agreement outlines the benefits the community will enjoy from the project. These benefits may include a combination of jobs, business opportunities, capacity building through training or apprenticeships, an improved environment, and local program funding among other benefits.
The Community Benefits Agreement requires three key players:
A community-based coalition,
developers, and
government.
PACE has asked the Town of Hanna for assistance to identify potential community coalition members. Members should see representation from the following:
Community members with experience,
Town of Hanna,
Special Areas,
WestMET member.
If you might be interested in representing the Town of Hanna to develop a Community Benefits Program and Agreement, please consider this role as a Community Member. Information on Community Benefit Agreements can be found at the link. Please contact Kim Neill, CAO for information or to express interest. 403-854-4433.