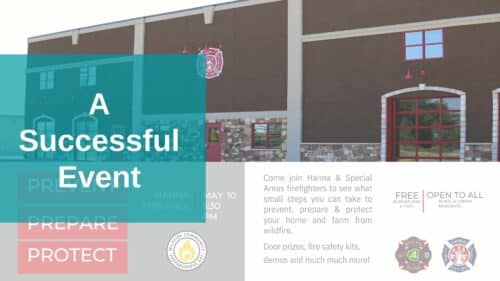 Hanna Fire Department and Special Area Fire Services were excited to host a Wildfire Community Preparedness Day on May 10, 2023, at the Hanna Fire Hall. This event gave people a chance to learn what they can do on and around their properties to help protect against the threat of wildfire.
Around 175 people came out and enjoyed some delicious free food while watching fire tower demonstrations. ATCO Electric sponsored the BBQ portion of the evening, they cooked around 100 hot dogs and 250 burgers.
Firefighters from the region were on hand to share tips and simple steps on how to reduce the risk of fire around your home, whether they live in town or out in the country. Tables were set up with information about how to FireSmart your home and property, signing up for local emergency alerts, volunteering, and much more.
This event was funded in part through FireSmart Canada's Community Preparedness Day program. You can learn more about FireSmart at https://firesmartcanada.ca/homeowners