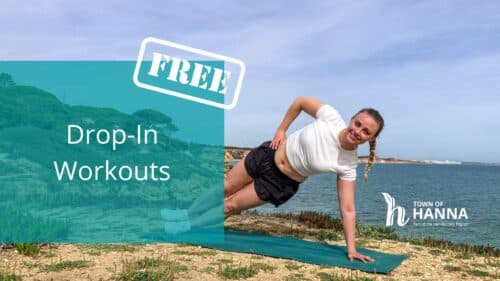 Shandi will be back in Hanna! She is offering some free drop-in group workout classes to both new and familiar faces.
This is a great way to get some movement in after a long workday while being with a fun group!
These workouts will be a mixture of different bodyweight exercises that are suitable for all fitness levels- so whether you are a seasoned pro or new to fitness, you will love it. The sessions will last between 45 min to 1 hour in length so get ready to move, laugh and stay active with a great group of people! Bring a water bottle and Shandi will welcome you to class. Note: If you are unable to attend the workout sessions but still want some training, Shandi is offering 1:1 options as well.
Location: Centennial Place Fieldhouse.
Free to participate.
No registration is required. Just drop in on the dates that work for you! All dates are 6:00 pm – 7:00 pm.
Tues. Nov 21
Tues Nov 28
Tues Dec 5
Tues Dec 12